According to the latest comScore's Media Metrix ranking, websites belonging to the internet giant Yahoo  are ahead of their number one rival Google.
The data reveals that sites belonging to Yahoo have 196.6 million unique U.S. visitors in July, compared to 192.4 million for Google owned websites.
This is the first time that Yahoo has beaten Google's traffic since May 2011.
According to comScore, Yahoo's web traffic has risen by just over 20 percent during the past year.
The results represent significant success for the company's new CEO Marissa Mayer, who joined Yahoo in July 2012.
Since leaving Google, Mayer has made a number of major acquisitions – such as buying out the blogging site Tumblr for $1.1 billion.
Analysts are skeptical as to whether Yahoo can continue to beat Google
In fact, a comScore representative recently told MarketWatch:
"Seems there are other factors at play, and given how close Yahoo Sites and Google have been in recent months, it can likely just be normal seasonal/month-to-month fluctuations."
Following Google in third place was Microsoft and then Facebook.
comScore Media Metrix top 50 U.S. web properties for July 2013: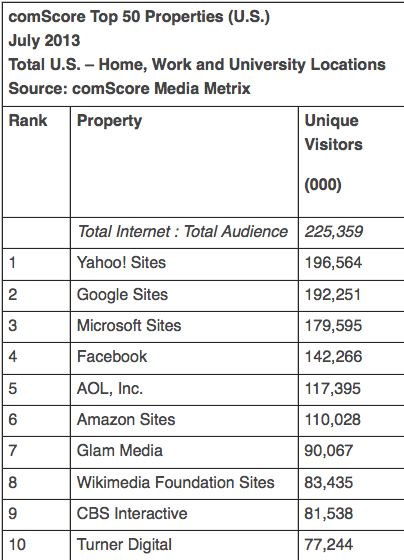 In addition to being number one for the number of unique visitors, Yahoo sites also came top for the comScore Ad Focus rankings.
A unique visitor is one individual over a specific period, regardless of how many visits he or she makes. For example, if I visit yahoo.com four time in April, I am one unique visitor.
Out of the top 30 Syndicated Ad Focus entities, Yahoo! ranked number one, followed by ShareThis, Outbrain, and Google. Out of 225 million internet users, Yahoo! managed to reach 87.2 percent, while Google only reached 85.6 percent.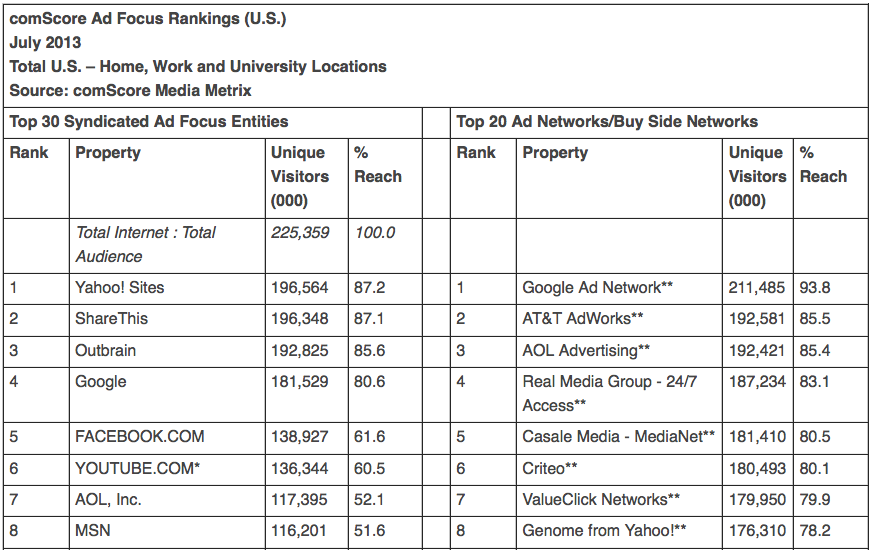 As far as search-engine traffic is concerned, Google leads the way by far, with 67% market share. Bing comes in at number 2 with 17%, followed by Yahoo with 12%, according to comScore.