Yahoo stocks hit $30 for the first time since February 2008, when Microsoft made an unsolicited bid to acquire the company.
Reaching this point seemed unachievable until Marissa Mayer took over as Chief Executive Office (CEO) in 2012.
Marissa Mayer took the helm at Yahoo after working as a long-time executive and key spokesperson for Google Inc.
In 2008, Microsoft tried for months to buy Yahoo, and eventually gave up after prolonged and unsuccessful negotiations.
Yahoo co-founder and CEO at the time, Jerry Yang, insisted that the company was worth more than the $31 per share offered at the time, and stood his ground when the offer was raised to $33 per share.
Before Mayer took over, Yahoo shares went into a prolonged slide, eventually falling to $8.94. Over a four-year period the company had five different CEOs.
Stocks almost double in Yahoo since Mayer took over
Since taking over as CEO at Yahoo, Mayer has seen Yahoo's stock almost double in value. She has spent over $1.2 billion buying up small companies. Key products have been redesigned. The proceeds from a successful investment in Alibaba, a Chinese internet company, resulted in shareholders receiving more than $3 billion.
Mayer said that Yahoo's holdings in the rapidly growing Alibaba Group has helped push Yahoo stocks up. Mayer said "Some predecessors, notably Jerry Yang, made some very savvy investments, like in Alibaba."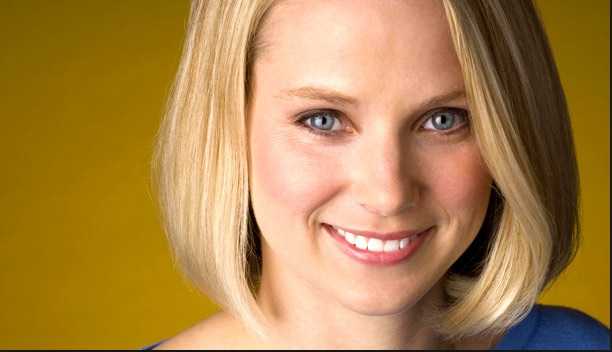 Merissa Mayer, CEO of Yahoo, says it will take 3 years to get ad revenue back up.
Yahoo – 800 million active users
On Wednesday, September 11th 2013, at the TechCrunch Disrupt conference in San Francisco, Mayer announced that Yahoo's online services are receiving approximately 800 visitors each month, 20% more than when she arrived. The 800 million does not include Tumblr visitors – Tumblr, an internet blogging website, was acquired by Yahoo in May this year for $1.1 billion.
One would expect that the extra Yahoo visitors will mean extra advertising revenue for the company. However, according to timesleader.com, Mayer has not yet been able to significantly increase the company's revenue.
During recent quarters Google and Facebook ad revenue have been rising, while Yahoo's has remained relatively unchanged. Bloomberg quoted an EMarketer Inc. researcher who said Yahoo's share of the $17.5 billion display ad market will drop to 7.9% in 2013, down from 9.2% in 2012. Google's is expected to rise to 18% (up three percentage points) and Facebook's to 17% this year.
Mayer believes that getting Yahoo's advertising revenue back into high figures will take at least three years.