YouTube is taking on US cable networks with a new $35-a-month TV subscription service, called 'YouTube TV', which will offer users access to over 40 networks, including Fox, NBC, ABC, CBS, and ESPN.
Subscribers will be able to watch live TV on their computer, tablet or mobile and have the option to stream it to their TV via Google Chromecast. The service comes with a cloud DVR feature, allowing users to record and store programming simultaneously – recordings are stored for nine months.
Christian Oestlien, Product Managemnt Director for Youtube, wrote:
"YouTube TV gives you the best of live TV, from must-see broadcast shows like "Empire," "The Voice," "The Big Bang Theory" and "Scandal," to the live sports you want. YouTube TV includes major sports networks like ESPN and regional sports networks like Fox Sports Networks and Comcast SportsNet, so you can watch your favorite NBA or MLB teams.

"We've also partnered with local TV stations, so you'll also get sports and local news based on where you live. And YouTube TV offers dozens of additional cable channels, so you won't miss out on the latest news from MSNBC or Fox News, popular shows and movies from USA or FX, kids programming from the Disney Channel or Sprout, or reality TV from E! or Bravo.

"You can also add Showtime, or Fox Soccer Plus to your networks for an additional charge. In total, YouTube TV gives you access to more than 40 networks…"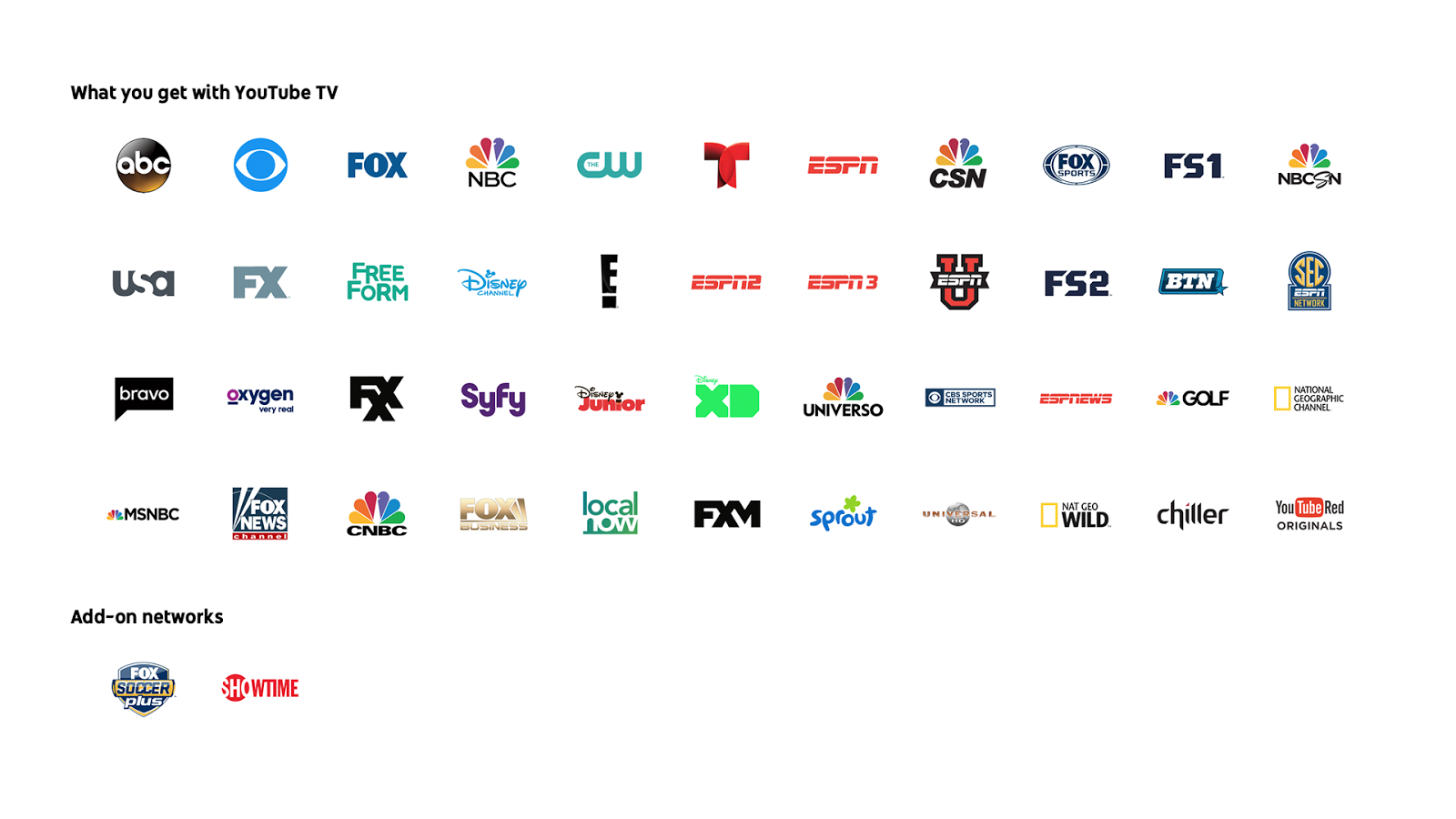 Providing a live TV service puts YouTube head-to-head with traditional cable companies.
"It's live TV designed for the YouTube generation," said Christian Oestlien.
"Those who want to watch what they want, when they want, how they want, without commitments."
Analyst Paul Verna of eMarketer was quoted by the BBC as saying: "YouTube is already an extremely well established video brand, and its apps are virtually everywhere."
Verna added:
"YouTube has the technical know how and infrastructure but it's never a given that things will go right. It's not just about delivering the technology at scale.

"It's about the user interface – and that's something YouTube has never been particularly good at."