The annual percentage rate of charge (APR) is a term used to describe nominal APR or effective APR (EAPR).
It is the interest rate for a whole year, as opposed to a monthly rate, on a loan, credit card, etc.
According to Cambridge Online Dictionaries, APR is the:
"Annual Percentage Rate: the rate at which someone who borrows money is charged, calculated over a period of twelve months."
Nominal APR is the simple interest rate for a year, while EAPR is the fee plus compound interest rate.
---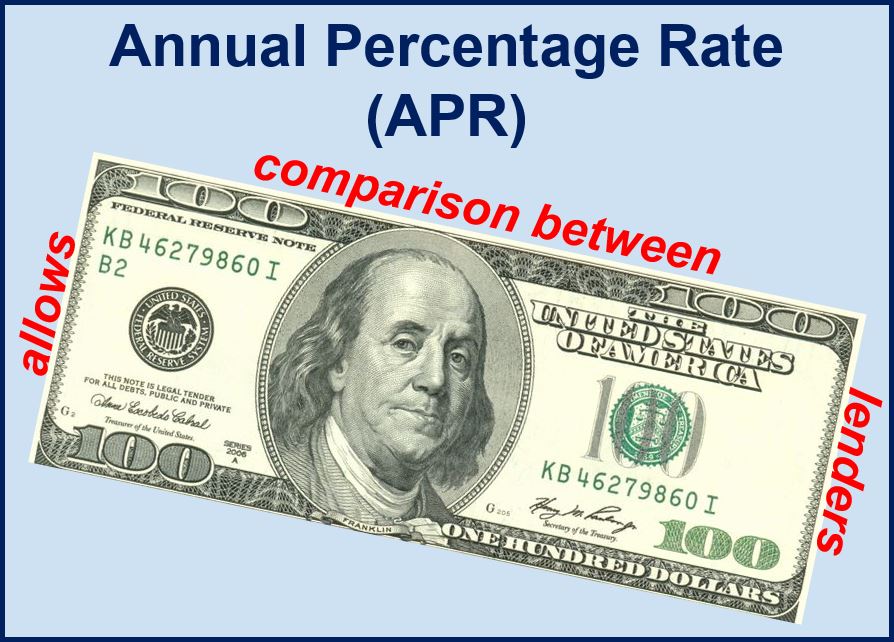 With APR consumers can compare loan options.
---
APR has a higher rate compared to the stated note rate or advertised rate on a loan, as it takes into consideration point and other credit cost.
APR is a tool used by lenders to compare loan options.
Lenders are typically required to provide information on the cost of borrowing as a means of protecting the consumer.
---
---
How to calculate annual percentage rate (APR):
There are three main ways of calculating APR:
Compounding the interest rate on a yearly basis (without taking into account fees).
Adding origination fees to the balance due, and using that amount as the basis of calculating compound interest.
Origination fees are amortized into a short-term loan which is due in the first payment(s), while the unpaid balance is amortized as a long-term loan. Extra payments focus on clearing origination fees and the interest charged on that amount.
Video – What is APR
This video will help you understand the way APR is calculated and what it means.