The term business objective as a noun means the result that an individual, business or system aims to achieve, and the strategies that will be used to get there, usually within a given time frame and the resources available.
The adjective – to be objective – means not being influenced by personal feelings, opinions or prejudice when considering a fact or situation, as in "We need to be objective when confronting this problem – this is not a time for personal bias." The opposite is to be subjective.
Goal versus Objective
A business person's goals and objectives are not the same. Your goal is a broad primary outcome. An objective, on the other hand, is a measurable step you take to achieve that goal. Your goals are general while your objectives are specific.
A company's business objectives provide a detailed picture of how it plans to achieve its stated goals over a specified period with the resources available.
Looking at it another way, when people plan their business' future, they will generate a list of potential achievements they want it to reach – these are goals. The actual steps taken to get to those achievements are the objectives.
You will often hear these two terms in business situations: "Our goals and objectives are…" or "Our aims and objectives are…" – in a business context, aims and goals have the same meaning.
The terms goals and objectives are commonly used interchangeably, however, they each have important differentiating attributes and are used at different stages of the business planning process.
Objectives are generally more specific and easier to measure than goals. All your basic tools that underlie your planning and strategic activities are your objectives. A company's objectives serve as the basis for creating policy and gauging performance.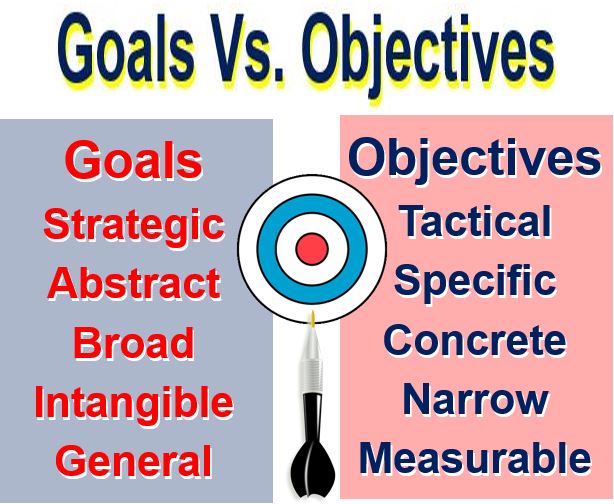 In business, your goals are where you aim to be one day, your objectives describe how you plan to get there.
Examples of business objectives include making a profit, reducing the workforce, expanding abroad, or minimizing expenses. Expenses are what the business spends.
Goals are statements a business may make regarding its future. They represent the aspirations its leaders have. The president of a company, when expressing its goals may say: "We seek to become the largest maker of bicycles in the world." While expressing where he or she would like the company to be one day, how that goal will be achieved is not specified.
The exact steps a company plans to take to reach its goals or aims are its objectives. When expressing objectives, the president of a company might say: "We will increase our sales of bicycles by 2.5% each quarter of this year, and will open new branches and factories in Germany and France during the next twelve months."
Objectives of a small business
The main objectives of a small or very young business might be:
Profit Maximization: making as much profit as possible is something every single business owner seeks.
Survival: this would be a short-term objective, maybe because the business is just starting out, a new company enters the market, or at a time of crisis.
Profit satisficing: making enough profit to keep the owners happy. This is a common strategy in smaller businesses in which the owners either are not involved or do not want to work long hours. If the owners want their managers to do more than just make them happy, they should consider offering them a stake in the business. Satisficing means being happy with 'good enough' rather than striving for the best possible option.
Sales growth: perhaps because the company's managers believe that the business' survival depends on being large. The bigger a company, the more it can benefit from economies of scale.
Business objectives sometimes clash
Business objectives sometimes conflict with each other. For example, growth and profit may clash – when a company achieves greater sales in the short term, perhaps by slashing prices, it reduces short-term profit.
Long-term objectives can affect the short-term prospects of a business. If it invests heavily in plant, equipment or new products, its cash flows in the short-term will suffer.
Many people say that the way stock market investors behave – focusing too much on short-term profits and company performance – undermines its long-term prospects.
BusinessDictionary.com defines 'objective' as:
"1. A specific result that a person or system aims to achieve within a time frame and with available resources.
In general, objectives are more specific and easier to measure than goals. 2. Neutral (bias free), relating to, or based on verifiable evidence or facts instead of on attitude, belief, or opinion. Opposite of subjective."
Quotes by famous people
Below are some quotes by famous people using the word 'objectives' – not all examples are business ones.
"Movies can and do have tremendous influence in shaping young lives in the realm of entertainment towards the ideals and objectives of normal adulthood." (Walt Disney, 1901-1966 – American entrepreneur, animator, voice actor and film producer)
"We cannot continue to rely only on our military in order to achieve the national security objectives that we've set. We've got to have a civilian national security force that's just as powerful, just as strong, just as well-funded." (Barack Obama – US President, 2009-2016)
"I emphasize to C.E.O.s, you have to have a story in the minds of the employees. It's hard to memorize objectives, but it's easy to remember a story." (Ben Horowitz – American businessman, investor, blogger, and author)
"Management by objective works – if you know the objectives. Ninety percent of the time you don't." (Peter Drucker, 1909-2005 – Austrian-born American management consultant, educator, and author)
"Successful diplomacy is an alignment of objectives and means." (Dennis Ross – American diplomat and author)
"What it meant to me: a happy life, of course, companionship, of course. A common objective, I think." (Denis Thatcher, 1915-2013 – husband of the former British Prime Minister Margaret Thatcher)
"I bear solemn witness to the fact that NATO heads of state and of government meet only to go through the tedious motions of reading speeches, drafted by others, with the principal objective of not rocking the boat. (Pierre Trudeau, 1919-2000 – former Prime Minister of Canada)
"We need business to understand its social responsibility, that the main task and objective for a business is not to generate extra income and to become rich and transfer the money abroad, but to look and evaluate what a businessman has done for the country, for the people, on whose account he or she has become so rich." (Vladimir Putin – President of the Russian Federation since 2012)
Video – Goals and Objectives
This video explains clearly what goals (aims) and objectives are in the world of business.
---
---