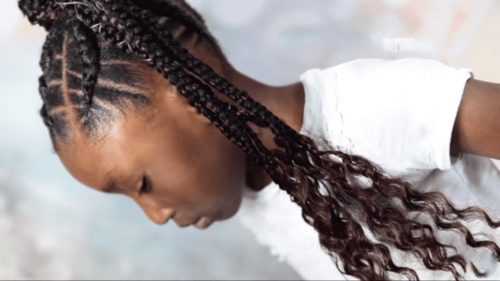 The bohemian box braids, the extension with undone ends
There are so many different types of box braids that it's almost impossible to keep track of. You've probably heard of bohemian box braids and are curious about what they are and how to get the appearance and especially if you are the one who braids hair.
That's why, in this post, we'll go over everything you need to know about Bohemian box braids, including what kind of hair you'll need, how to make it, and 20 various hairstyles to select from. Short hair for girls is always a concern while trying out new hairstyles, but
Not with bohemian box braids because it works with all types of hair. Be it short or long hair.
About Bohemian Box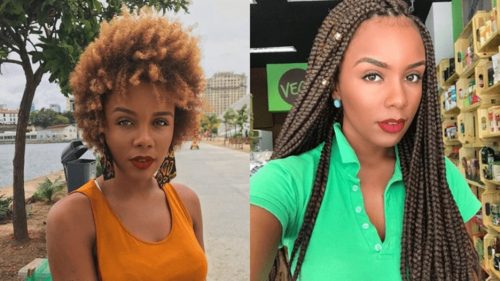 The difference between getting a bohemian box braids
They're Braiding Hair with undone curled ends that give your hair a voluminous appearance. Only the first few inches are braided, with the remainder left frizzy and unfinished. Although frizzy and undone doesn't sound pleasing, try it out once for yourself and feel the difference.
Anyone who braids hair would love this protective hairstyle. It's also lightweight, and the curly ends can be styled in any way you choose.
Long Goddess Box Braids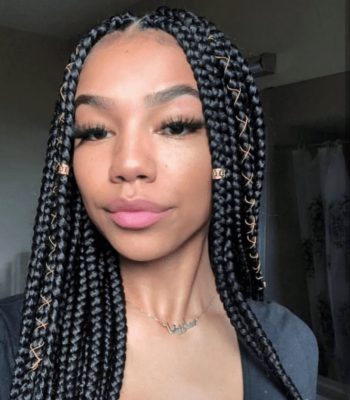 The goddess long hair box braids
With this excellent hairstyling suggestion, you may cherish your long hair and let it fall freely across your shoulders. Long hair is usually challenging to manage, and cutting it out is also a significant undertaking. You can seem stunning, trendy, and seductive in this design. Until the end, the long boho box braided hair strands are tied and fixed.
What if you don't have enough hair for a Box Braids? No fear! Lordhair.com has a range
of women's wigs so you can achieve whichever hairstyle you want, even if suffering from
hair loss. With a huge selection of wigs for women, in any color, length and style,
Lordhair is the number one place to go to get your perfect haircut.
High Tress Bun with Thin Box Braids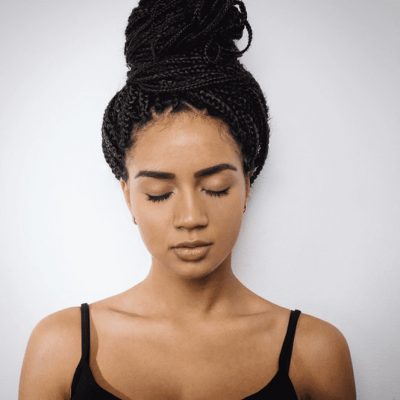 High tress style with thin box braids
This artistic hairstyle creates a unique look. All of the hair is combed from back to front in this appearance, and the tiny box braids are fashioned so that half of the braided hair strands are left open like tresses. To tie the braids and enhance the aesthetic, multi-color threads are employed. A giant gigantic bun is constructed with all the strands and locks at the top of the head and fixed with a sloppy look.
Bohemian Braids for Fine Hair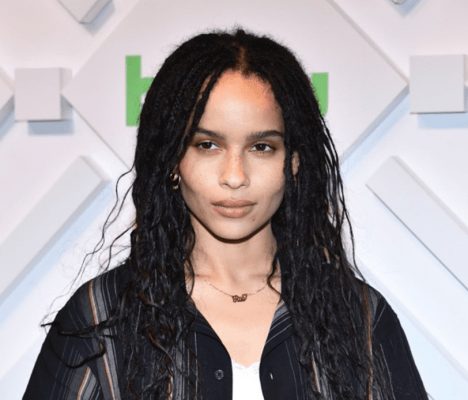 Boho braids for fine hair
This hairstyle is designed for fine hair. To get a similar look, simply part your hair down the middle and braid as many Bohemian Box Braids as you can with extremely thin hair strands. After knitting the Bohemian box braided hair strands to neck length, leave them open and bind them with black rubber bands. Leave the remainder of your hair relaxed and slightly wavy.
Brunette Long Goddess Box Braids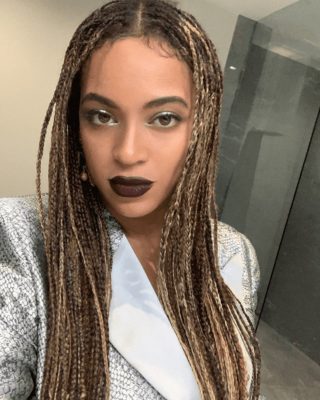 Long hair goddess box braids
If you have stunning long and dense hair with a smooth texture, this is one of the classiest Boho box braided styles to try. The addition of a golden brunette hue to the color enhances the hairdo and makes it stand out even more. Several box braids are formed from a side partition and left open at the ends to complement the look.
Brown Bohemian Box Braids
Brown bohemian box braids
This haircut is designed for progressive and modern ladies who want to look attractive while maintaining the convenience of a well-managed and long-lasting hairstyle. This style requires the least amount of management and ensures that you look good every time you leave the house.
Creative Stylish Pattern
The zig-zag pattern style
The pattern is an important aspect of the hairstyle that can enhance the overall appearance's beauty and style while also making it stand out. You may get the exact look with the same texture and attractiveness, even if you don't have thick, smooth hair. Several Boho box braids with a gorgeous zig-zag pattern are produced in this style, and a few of the thin curly hair strands are left open at the front side to add to the style's elegance.
White Box Braids with Spiral Curls
White bohemian box braids for long hair
Hair extensions can be used if you want to keep the same hairdo or if you want to enjoy the benefits of having such long and dense hair. This innovative hairstyle calls for angled hair in one direction and plenty of box braids all over, with some curly spiral strands left out of the box braided strands.
Multi-Color Goddess Box Braids with Open Ends
Multicolor goddess braids with open ends
The attractiveness of a haircut rises to a new level when it becomes artistic. Thanks to the amusing hues, this hairstyle is a one-of-a-kind and innovative haircut that is lovely and eye-catching. The futuristic youth are yearning for this kind of stylish, fearless style with long hair. If you have long hair, have it colored and styled like this, and if you don't, get extensions and enjoy the look. The multi-color colors are applied to the hair in such a pleasant and careful manner.
Burgundy wavy Curls with Box Braids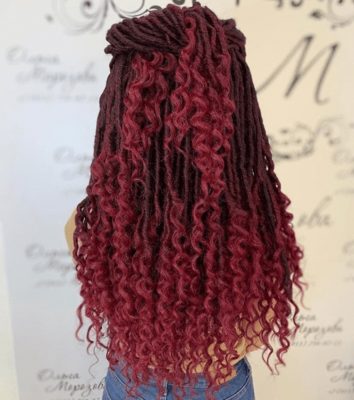 Burgundy wavy curls
No one can take their gaze away from this look. This style is superlative and very innovative due to the perfect blend of red burgundy hair color with black and the optimal combination of spiral curly hair strands with bohemian box braids. As you can see, each box braid has two tons of black and red, which a skilled hairstylist can only achieve. Many hair strands are entangled in many box braids.
Tight Accessorized bohemian braids
Accessorized bohemian braids
The black glossy hair is parted on the side and tightly braided all over the head in several bohemian box braids. After knitting till half of the length, each box braided hair strand is left open. The remaining loose hair is twisted and twirled to provide volume and beauty to the ends.
Copper Brown Bohemian Box Braids
Light brown bohemian box braids
This style is created with hair extensions in an extremely silky copper brown color. Making this hairdo is a genuine one-of-a-kind and unique experience. With the help of hair extensions, a plethora of boho box braids is produced all over the head to bring gorgeous color, luster, and density to the hairstyle. The combination of rich black roots and copper box braids creates a stunning style.
Combination of box braids with Roped Braids and Curls
The mixed style
Roped braids, spiral curls, and boho box braids are used to style the dense, black hair
in a lovely combination. Silky brown threads are used for this braid style. Hair strands in a variety of styles provide a voluminous effect and beautifully frame the face. This is an appropriate style to choose with outstanding comfort for young girls and office goers.
Bohemian Box Braids swept on One Side
The side sweep style
Girls adore these hairstyles because they give them that feminine appeal by bringing all of their hair to one shoulder. The hair is combed to one side from right to left in this hairstyle, and many thin boho box braids are made, leaving the sharp ends open and curled. Hair has a different texture because of the thin braids.
Scalp Pattern with Boho Box Braids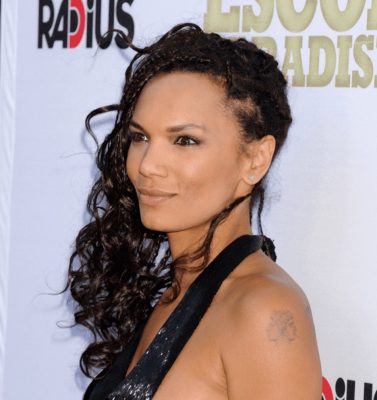 Off-shoulder bohemian box braids
To make a haircut look unusual and unique, stylists usually focus on the lengths and top of the hair, but the focus is on the pattern generated on the scalp in this style. With several box braids and curly hair strands creating patterns on the scalp, the top part of the hair is transferred to one side.
Blonde Square Box Braids With Short Sides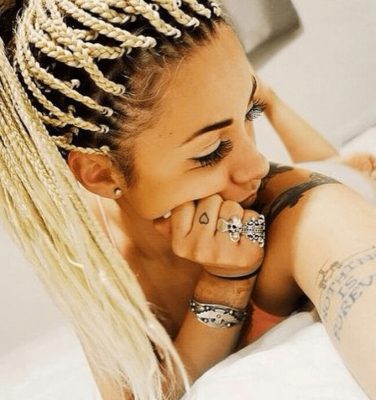 Blonde square box brains with short sides
This style may give you a furious and courageous look perfect for bold and fearless girls who can confidently define new beauty standards. Bohemian box braids with blonde hair extensions are created by dividing the main section into small square boxes. The shaved sides are the most unusual aspect of this hairdo.
Stars with Maroon Color Extensions
Stars with maroon color braids
Goddess box braids are so named because of the divinity of the hairstyle. It's challenging to balance this sparkling and bold design with a delicate and serene appearance. This hairdo is adventurous and fierce-looking, thanks to the bold scarlet maroon hair extension. The star patterns are used to form box braids that are then beautifully extended with maroon extensions. This style is a terrific place to start for trendy young ladies.
Black Tight and Patterned Box Braids
Black tight and patterned box braids
This is the ideal style for those with a broader forehead because of the distributed hair all around, making your hair look voluminous and divert attention away from the wider forehead. With side division, multiple tiny boho box braids are produced till half of the hair is left open with spirals to make the hair look denser, and the remainder of the hair is left open with spirals to make the hair look thicker. The loose ends with large swirls go well with the overall design.
The Hippie Look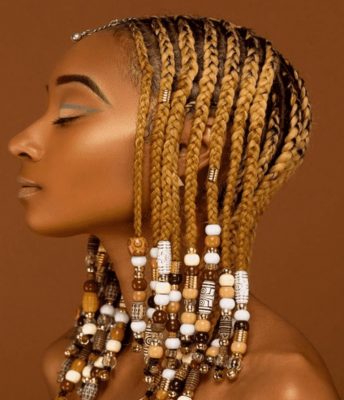 The creative hippie look
Changing the color of your hair to chestnut can completely transform your hairdo and personality. The cornrow box braid is made from the very center, and the remainder of the hair is separated to the sides to make several box braids. This hairdo is all about embellishment and decoration. Various brown and yellow wooden beads of different sizes give the complete haircut a hippy vibe. For young girls, this sassy and chic appearance is a must-try.
Bangs accessorized with Bohemian Box Braids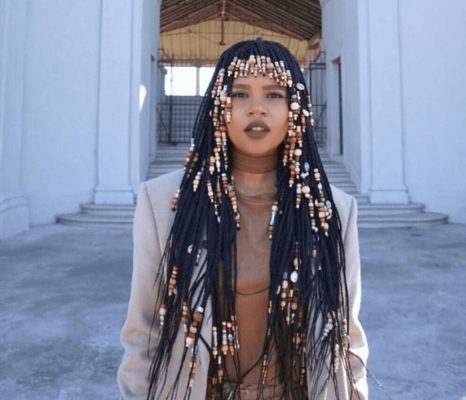 Bangs accessorized with bohemian box braids
It's the most out-of-the-box look, and it takes a lot of guts and confidence to pull off tastefully. This is a hairdo that isn't for everyone. The hair is cut asymmetrically in this haircut, with long front bangs. The hair is braided in a series of delicate boho box braids throughout. Each braid is embellished with a slew of bright beads and pearls at the end. This decoration gives the impression of exclusivity and individuality.
Medium Length Bohemian Box Braids
Because of their celestial appearance and enticing sobriety, Bohemian box braids are appropriately referred to as Goddess braids. This haircut is for people who have mid-length hair. Multiple rectangular boho box braids are formed and wrapped so beautifully at the ends, leaving only an inch of the hair open for a clean and adorable look. The hairdo is elegantly accessorized with golden threads and huge metallic beads.
These are the 20 most amazing bohemian box braid hairstyles we've gathered for you, all of which were created by top-notch hairstylists. These styles are timeless and will never go out of style. Examine all of the styles and choose the ideal one to establish your own fashion style and walk confidently.
---
Interesting Related Article: "How to choose the best hair bundle"