With so many different types of human hair extensions to choose from, it can certainly be overwhelming to not only get started with the world of hair extensions, but also decide which one to get.
That said, you don't need to worry any longer. We have provided five of the most popular types of hair extensions which will hopefully help you decide which one to get for yourself to increase the length, volume, density and overall beauty of your real hair.
Clip-in hair extensions
Clip-in extensions are one of the easiest types of hair extensions to get started with. These are extensions of hair that are clipped onto the wearer's scalp or natural hair. Unlike most extensions, they can be attached by the wearer manually without the help of a professional in a process that usually takes around 15 minutes. Additionally, they are meant to be worn temporarily for special occasions and are to be taken off at the end of the day.
It is because of these reasons that clip-ins are not only one of the most popular hair extensions, but also highly-recommended for beginners. However, it is not recommended for those with very fine, thin hair as the clips can pull on the hair and lead to hair loss or traction alopecia. Clip-ins can last up to a year.
Tape-in hair extensions
Tape-ins are arguably the most popular kind of hair extension. These are extensions of hair that are taped onto the wearer's scalp or natural hair. While they take longer to install than clip-ins, they can be installed manually by the wearer, even though most prefer to have them installed at a salon.
They are also meant to be worn on a semi-permanent basis and last around two months before they will need to be reinstalled due to one's natural hair growing out. Tape-in hair extensions are also ideal as they are lightweight with the tape being undetectable underneath the wearer's natural hair. However, they will require regular maintenance as they are worn everyday.
Halo hair extensions
Halo hair extensions are quickly becoming one of the most popular hair extensions. That's because like clip-in extensions, they're one of the few types of hair extensions that can easily be installed by oneself. These are extensions of hair that simply sit on the top of your head and are secured with a thin and invisible wire that goes around your natural hair — as if it's a halo!
This wire is kept into place either by clipping onto your hair or having your hair sit on top of it with the weight securing it. The process only takes a few minutes which is why along with clip-ins, halo extensions are also recommended for hair extension newbies. They can last from three to six months if maintained properly.
U-tip hair extensions
U-tip hair extensions are among the most widely used extensions. Also known as nail tip, keratin bond or hot fusion hair extensions, u-tips are pre-tipped and U-shaped hair extensions that are lined with silicon. The natural hair is inserted between the U-shaped curve at the tip of the extension before being sealed off with keratin glue through the use of a hot fusion iron.
These extensions are notably lightweight and secure, and also suitable for those who have thicker hair types. However, they can only be installed by a professional as the process can take a couple of hours. They can also last around three to six months with the proper maintenance.
Hand-tied weft hair extensions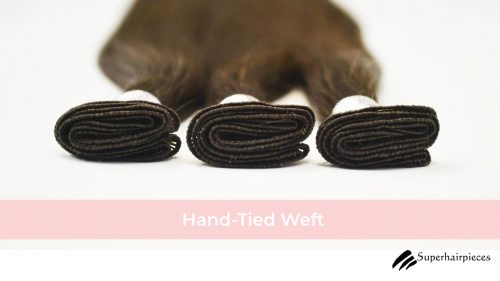 Hand-tied weft hair extensions are another option especially for those who want the most natural look for their hair. These are extensions that are sewn by hand and because there is not a lot of hair that is used, a thinner lining is created which helps provide a natural look.
As for the installation process, the hair is sectioned before beads are attached. The wefts are then secured onto the beads. This kind of hair extension also doesn't carry a lot of hair density which makes it ideal for those with fine, thin hair. They can last between four to 12 months.
Conclusion
Now, you should be well aware of some of the most popular types of hair extensions and their methods of attachment and various benefits. If you're ready to go ahead and get started in making your hair longer, more voluminous, dense and beautiful, check out the best hair extensions in Canada!
---
Interesting Related Article: "The Ultimate Guide to Curling Hair With a Straightener"