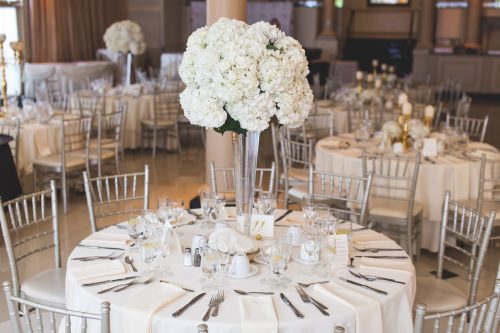 A wedding is a cause for huge celebration.They can be fairly stressful though if you don't plan them right! Thats why choosing a wedding planner is so important if your budget can accommodate it. There are wedding planners all over, but there are a few wedding planners in Milwaukee that really take the cake! If you and your groom are making wedding plans, you'll want to have all those little details in place. One of the most important of all details is the kind reception you want. You want everything to work perfectly. This is why it is a good idea to pay close attention to the chairs where your guests will be seated. Good chairs allow for the flow of conversation and make guests feel truly at ease. One way to add your own special touch is with the use of wedding chair covers.
Well-chosen covers are easy to make. Many brides love the idea of setting something of their own at the wedding reception site. They also love the idea of having something they can do on their own. This is why so many brides chose to put up covers that are all about their personal style. These thoughtful and utterly unique chair cover ideas make it easier than ever to put your own personal stamp on your very special day.
Bride's Train
All brides have something nice to wear. A wedding dress provides the perfect inspiration for your chairs at the reception. Look closely at the dress you've chosen. You want to mirror this in your choice of chair covers. For example, if you have a long train that has lots of intricate details, you can use the same effects on the chairs. Think about the fabric you've chosen for your train and also wonder why do wedding dresses have trains. A sweet tulle has lots of appeal. You can use this same fabric on the top of the chair. Or, if your train is satin, this is another fabric you can put on top of chairs.
Groom's Ties
A typical groom will wear a tie to his wedding. Ties offer an air of formality that is just right for any wedding. Mimic the shape and the look of the tie with a wedding chair cover that is in the shape of the groom's tie. The tie is a simple way to use fabric. You can take some fabric and loop it on the sides of all of your wedding chairs. That will create a cover that can amuse your guests and provide endless opportunities for selfies. This is one way that people can enjoy the day as much as you do.
Lacy Elegance
Lace is one of those materials all brides adore. Lace is pretty, easy to use and works to set a mood. You can apply lace to your tables and chairs. Lacy is a great way to perk up any space. You'll want to have lace that matches the overall theme of your wedding. For example, if you have a pink and blue color scheme, you can always dye the lace to match the other colors in the room. You can also use lace with lots of details like the kind of flowers you have in your wedding bouquet.
Large Bows
Bows say this is a party. Bows are girly and lots of fun. You can use bows on your own wedding chairs. They make wonderful covers. This is one way to perk up the entire setting. You can opt for varied kinds of bows across the chairs. Have smaller bows at the kid's table. This is one way to designate this is the space where the kids can sit down and have a chance to be part of the fun. The rest of the tables can have chairs with much lower bows in a grouping of assorted colors. Each table can have chairs with different colored bows. That makes it easier for guests to find their table after dancing at your wedding.
Metallic Fabric
Metallics add light and shine to any room. Take advantage of this fact by using them in your wedding plans. A large grouping of metallic fabrics against dark wood chairs looks pleasing to the eye. Gold, silver, and bronze are easy to bring in and make the entire area look good. For many brides, they bring in the luster they want and add that extra touch of something truly special to any venue. It's also a good idea to consider custom table covers.
---
Autobiography: Eric Reyes is a passionate thought leader having been featured in 50 distinguished online and offline platforms. His passion and knowledge in Finance and Business made him a sought-after contributor providing valuable insights to his readers. You can find him reading a book and discussing current events in his spare time.

---
Interesting Related Article: "Wedding Backdrops: Some Guidelines for Choosing Stained Glass Images"