A new report reveals that 62 billionaires, 53 of them men, own as much wealth as the poorest half of the world's entire population.
The number of billionaires who own as much wealth as the poorest half of the world's population has dropped dramatically over recent years, from 388 in 2010 to 80 last year and now down to 62.
Since 2010 the wealth of the richest 62 has increased by more than half a trillion dollars to $1.76 trillion, while the wealth of the poorest half of the world's population – approximately 3.6 billion people – dropped by a trillion dollars.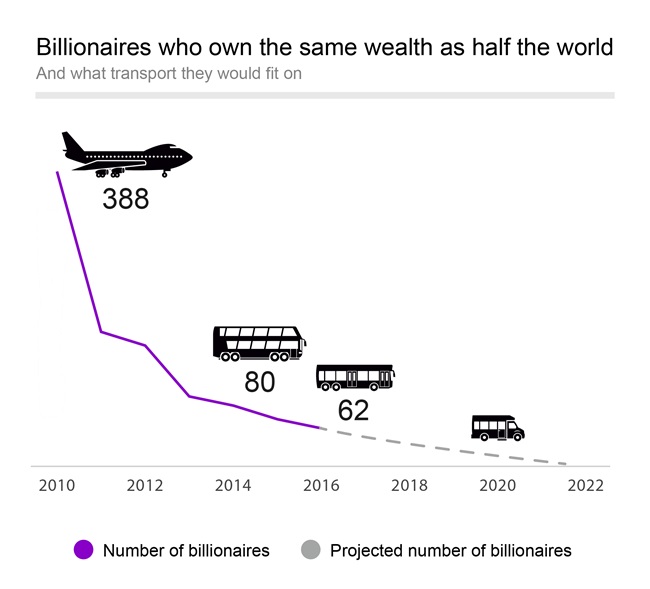 The report, by anti-poverty charity Oxfam, also revealed that the richest 1% of the world's population (73 million out of 7.3 billion people) own more than the other 99% put together.
Oxfam says that this 'extreme inequality' is being fueled by a global network of tax havens.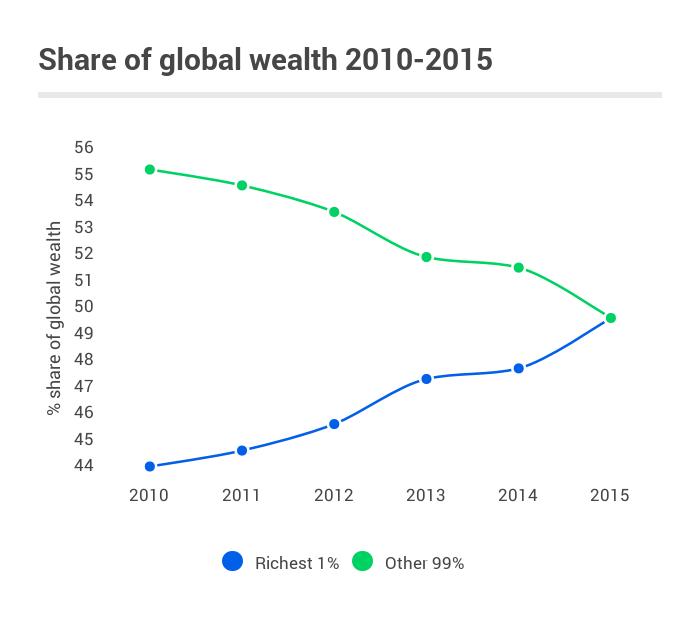 The charity is urging world leaders, including David Cameron, to crack down on tax dodging.
Public funding from tax pays for vital services that can help reduce poverty, such as education and healthcare, the charity said.
According to the report, the super-rich have an estimated $7.6 trillion stored in offshore accounts. Governments across the globe are missing out on tax revenues of $190 billion from income this wealth generates.
Tax havens, such as the British Virgin and Cayman Islands, "are enabling some of the world's wealthiest individuals and biggest companies to avoid paying their fair share."
"And that means taxation is not working as it should."
---
---
Mark Goldring, Oxfam GB Chief Executive, said: "It is simply unacceptable that the poorest half of the world population owns no more than a small group of the global super-rich – so few, you could fit them all on a single coach.
"World leaders' concern about the escalating inequality crisis has so far not translated into concrete action to ensure that those at the bottom get their fair share of economic growth. In a world where one in nine people go to bed hungry every night we cannot afford to carry on giving the richest an ever bigger slice of the cake.
"We need to end the era of tax havens which has allowed rich individuals and multinational companies to avoid their responsibilities to society by hiding ever increasing amounts of money offshore.
"Tackling the veil of secrecy surrounding the UK's network of tax havens would be a big step towards ending extreme inequality. Three years after he made his promise to make tax dodgers 'wake up and smell the coffee', it is time for David Cameron to deliver."
---
Video – Income Inequality
Income inequality highlights the difference between the highest and lowest earners in the world, a country, or region.
---