Are you looking to build a new website for your brand? A web design agency can offer you everything you need to succeed! They'll provide you with beautiful images, logos, and a great website layout.
However, there are so many web design agencies out there! How can you tell which one's the best for you and your business? If you want to learn more, be sure to stick around! We have seven tips to help you choose the best web design agency.
1. Check Out Their Website
Before you decide on any web design agency, you should always check out their site first! You can expect your new site to have many similar elements since the same people are likely to work on it for you. 
If their website looks outdated, then you should go with someone else. A good design company should constantly enhance their site – they understand that many people will check there first to see what they're about! If the site seems neglected, they may not put the care and thought you want into your new site.
You'll also want to make sure their website is easy to navigate and find information on. Navigation and functional layouts are essential to good web design- you want to know if this company can put that into your site as well.
In short, never sign up with a web design agency until you've taken a look at their website. You should be able to see several samples of good web design practices at a glance. 
2. Read Client Reviews
Next, you need to make sure that you read plenty of client reviews. Their previous clients can give you a lot of insight into the company that you may not have access to otherwise. You can read the reviews on the web agency's page, but make sure you check other sources online as well.
You can find local places on social media. You'll want to check out how the agency interacts with its audience. Are they kind and informative? How much time does it take for them to respond? 
If you see many negative reviews about the company online, you'll probably want to search elsewhere for web design services. When researching more than one company at a time, it also helps if you keep some notes! That way, you can easily compare the reviews you found.
3. Reach Out to the Agency
Next, we recommend putting together a list of questions and ideas for your site, then calling the web design agency. They should seem comfortable answering all of the questions that you may have.
You'll also want to carefully listen to their responses. The best agencies always build your site from scratch! They should have plenty of custom options for you to choose from too. You should feel as though the agent who speaks with you wants to understand your vision for the website. 
Overall, you want to know that you're hiring a friendly agency. Think about how you felt while speaking with them over the phone. Suppose they seemed to speak around answering your questions or purposefully used confusing language. In that case, it's best to move on to someone else.
4. Ask About Their Marketing Team
You'll also want to know if they'll be the ones providing you with marketing. It's best if they do and even better if they have a lot of experience! This team will manage your site and ensure that it helps your business to grow.
Online marketing is essential to every business today, no matter how large or small it is. When an agency also offers you marketing experts, your site is sure to flourish! You'll want to know that your site gets traffic and conversions and won't just sit there on the internet.
Overall, make sure you ask about their marketing team! Doing so ensures that you get more services that will deeply benefit your website and your brand. 
5. View Their Portfolio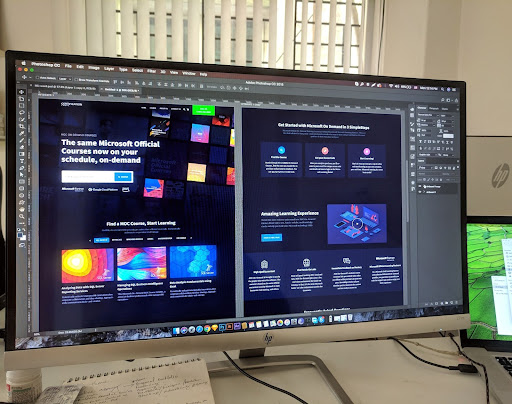 Many web agencies will have a portfolio that you can ask to look at. These portfolios contain samples and information on their previous projects. You'll want to check it out since you can expect similar results with your projects. Overall, these online portfolios demonstrate their expertise in the field.
Plus, you'll be able to see several samples of their designs. Every agency takes a different approach to building a good website. You can often tell at a glance if their design choices would fit your business or not. Even if the designs are great, they may not be a fit for your brand identity. So, don't hesitate to ask the agent questions about what they can do for you!
6. Ask For the Big Picture
It's also important that your web design agency understands the big picture! You can tell they do if they ask a lot of questions about the final results that you want to see or if they bring up making conversions through your site.
You can always ask for what final results they hope to achieve with your website. If you like their answer, you're sure to also like the work they do for you!
7. Look For Improvements
The best web design agencies always keep track of their progress in ways that make sense to everyone. They also strive to improve while they do so. If they track improvements, you can trust that the company won't abandon your site as soon as they finish its launch.
Amazing designers always look for places to make their work even better. If you want to see if this agency can do that for you, ask them how they measure their progress. They're a good fit for you if they mention updating the site when it needs it.
Consider Your Needs First
No matter what, you should always consider your unique needs first. Every person needs something different from their web design agency. Take a few quick moments to write down as much information about each as possible- including their prices. From there, think about which one would suit your needs the best.
---
Interesting Related Article: "Reasons Web Design Is So Important"