The way climate scientists and marine biologists study the ocean is set to revolutionise with new techniques that use satellites to monitor our seas, say European researchers. Satellites that orbit the Earth 700 km above our heads offer remote monitoring of huge areas of inaccessible ocean.
The researchers have written about their new technology in the academic journal Environmental Science and Technology (citation below).
More than one-quarter of CO2 emissions globally from cement production and burning fossil fuels are taken up by our oceans.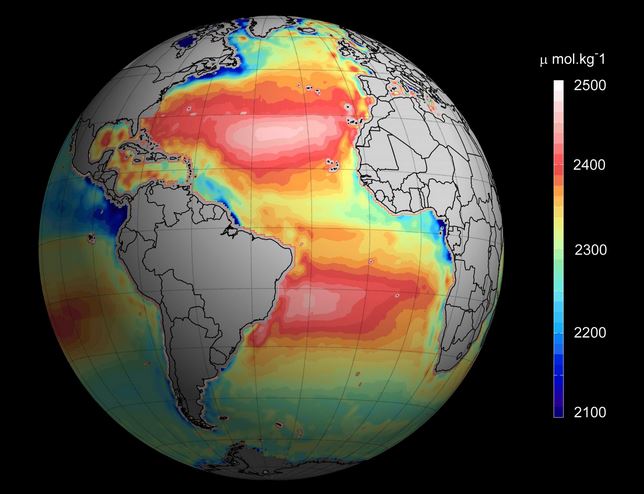 This image depicts total ocean alkalinity from space (Credit: Ifremer/ESA/CNES)
The more CO2 our oceans absorb the more acidic seawater becomes, making it harder for some types of marine life to survive. A report last year warned that the shells of mussels are becoming more brittle because seawater is now more acidic.
Increasing CO2 emissions plus the rising acidity of seawater over the next 100 years could devastate several marine ecosystems. Much of our food comes from the oceans. If we want to secure our food supply and protect marine life, careful monitoring of changes in ocean acidity is vital, the researchers say.
Monitoring ocean pH levels from space
Scientists at the European Space Agency (ESA), L'Institut Français de Recherche pour l'Exploitation de la Mer, and the University of Exeter in England, plus a team of international collaborators, are developing new techniques to allow them to monitor the acidity of the oceans from satellites.
Study leader, Dr. Jamie Shutler, who works at the University of Exeter, said:
"Satellites are likely to become increasingly important for the monitoring of ocean acidification, especially in remote and often dangerous waters like the Arctic. It can be both difficult and expensive to take year-round direct measurements in such inaccessible locations."
"We are pioneering these techniques so that we can monitor large areas of the Earth's oceans allowing us to quickly and easily identify those areas most at risk from the increasing acidification."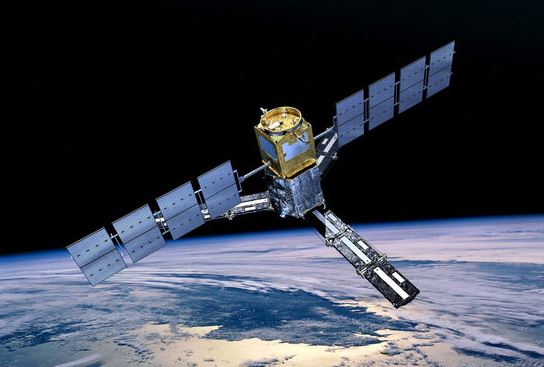 The Soil Moisture and Ocean Salinity (SMOS) satellite could be used for this purpose. (Image: European Space Agency)
Scientists are only currently able to measure temperature and salinity to determine acidity with in situ instruments and readings taken from research vessels. This means that only small areas of the ocean can be sampled, because research vessels are costly to run and operate.
With the new techniques, thermal cameras mounted on satellites will be able to measure the temperature of the oceans, while microwave sensors can gauge salinity.
These two measurements combined can be used to assess the acidification of our oceans more rapidly and covering vastly larger areas.
Lead author, Dr. Peter Land, who works at Plymouth Marine Laboratory, said:
"In recent years, great advances have been made in the global provision of satellite and in situ data. It is now time to evaluate how to make the most of these new data sources to help us monitor ocean acidification, and to establish where satellite data can make the best contribution."
Some existing satellites could be used for this purpose, including NASA's Aquarius satellite that was launched in 2011, and the ESA's Soil Moisture and Ocean Salinity (SMOS) sensor that was launched in 2009.
The importance of monitoring ocean acidification and the development of the new technology hopefully means there will be more funding for additional satellite sensors in the years to come.
Citation: "Salinity from Space Unlocks Satellite-Based Assessment of Ocean Acidification," Peter E. Land, Jamie D. Shutler, Helen S. Findlay, Fanny Girard-Ardhuin, Roberto Sabia, Nicolas Reul, Jean-Francois Piolle, Bertrand Chapron, Yves Quilfen, Joseph Salisbury, Douglas Vandemark, Richard Bellerby, and Punyasloke Bhadury. Environmental Science & Technology 2015 49 (4), 1987-1994. DOI: 10.1021/es504849s.