Actavis plc is a multinational pharmaceutical company, headquartered in Dublin, Ireland.
The company is an "integrated specialty pharmaceutical company" that specializes in developing, manufacturing and distributing generic and brand name pharmaceuticals – in more than 60 countries around the world.
Actavis also develops and out-licenses generic medications through its third-party business called Medis.
It is currently one of the world's leading generics prescription drug manufacturers.
Actavis was founded by Allen Chao and David Hsia in 1984 in Libertyville, Illinois, United States.
The company was incorporated in Ireland on May 16, 2013 as a private limited company and re-registered effective September 18, 2013 as a public limited company – as a means of facilitating the business combination between Actavis, Inc. and Warner Chilcott plc.
Its administrative headquarters are located at Morris Corporate Center III, 400 Interpace Parkway, Parsippany, New Jersey, USA.
Some of its blockbuster drugs (as of May 2014), include: Generess® Fe, Rapaflo®, Androderm®, Trelstar®, Lo Loestrin® Fe, Crinone®, Asacol® HD, Atelvia®, DELZICOL®, DORYX®, ESTRACE® Cream, Minastrin® 24 Fe, Enablex®, Actonel®, Lidocaine Patch 5%, Propranolol HCl ER USP, Telmisartan Tablets USP, Metoprolol Succinate ER, Duloxetine DR USP.
Overview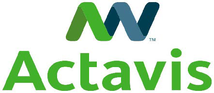 President and CEO: Brenton L. Saunders
Industry: Pharmaceuticals
Type: Public
Listed on the New York Stock Exchange (NYSE)
S&P 500 Component
NYSE stock symbol: ACT
Founded: 1984
Revenue: $13.062 billion USD (2014)
Net loss: $(1,630) million USD (2014)
Diluted (loss) per share: $(7.42) USD  (2014)
Company head office: 1 Grand Canal Square, Docklands Dublin 2, Ireland
Employees: 21,600 (2014)
Website: http://www.actavis.com/
---
Actavis plc Financial Results, Years Ended December 31
Operating data (in $ millions)

2014

2013

Net revenues
$13,062.3
$8,677.6
Research and development
$1,085.9
$616.9
Total operating expenses
$14,330.0
$9,100.8
Operating (loss)/income
$(1,267.7)
$423.2
(Loss)/income before income taxes and non-controlling interest
$(1,712,1)
$(638.4)
Provision for income taxes
$(81.9)
$112.7
Net (loss)/income
$(1,630.2)
$(751.1)
Net (loss)/income attributable to shareholders of Actavis plc
$(1,630.5)
$(750.4)
Balance sheet data (in $ millions)
Total assets
$52,529.1
$22,725.9
Total liabilities
$24,193.6
$13,188.8
Total shareholders' equity
$28,331.1
$9,532.1
Common share data (in $)
Basic (loss)/earnings per share
$(7.42)
$(5.27)
Diluted (loss)/earnings per share
$(7.42)
$(5.27)
Cash flow data (in $ millions)
Cash provided by operating activities
$2,243.0
$1,213.5
Cash (used in) investing activities
$(5,370.6)
$(275.3)
Cash (used in) provided by financing activities
$3,017.5
$(867.3)
Cash and cash equivalents at beginning of fiscal year
$329.0
$319.0
Cash and cash equivalents at end of fiscal year
$250.0
$329.0
Source: "Actavis plc Form 10-K 2014"
---