AGL Resources, Inc., is one of the largest natural gas distribution companies in the United States. It is based in Atlanta, Georgia.
The company is publicly listed on the New York Stock Exchange under the stock ticker symbol 'GAS'.
It is an energy services holding company and its primary business is the distribution of natural gas through natural gas distribution utilities that serve millions of customers across the country.
AGL Resources is comprised of the following five operating and reporting segments:
Natural gas distribution: providing gas to 4.5 million customers across 7 states.
Retail operations: 620,000 energy customers and 1.1 million service contracts across 17 states.
Wholesale services: natural gas storage, gas pipeline arbitrage and provides natural gas
asset management.
Midstream operations: high deliverability natural gas storage facilities.
Cargo shipping: shipping services to, from and between the Bahamas and the Caribbean.
Overview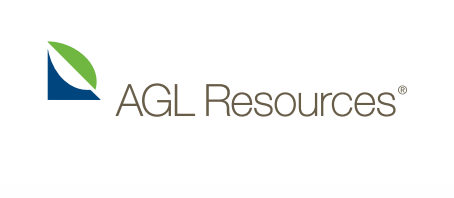 Chairman, President, and CEO: John W. Somerhalder II
Industry: Energy, Gas
Type: Public company
Listed on the New York Stock Exchange (NYSE)
NYSE stock symbol: GAS
S&P 500 Component
Revenue: $5.385 billion USD (2014)
Net income: $500 million USD (2014)
Earnings per share: $4.06 USD (2014)
Company head office: AGL Resources Inc., Ten Peachtree Place, N.E., Atlanta, GA, USA
Employees: 5,165 (2014)
Website: http://www.aglresources.com/
Investor relations email: 

[email protected]

Investor relations number: 404-584-4577
---
AGL Resources Financial Results, Years Ended December 31
Operating data (in $ millions)

2014

2013

Operating revenues
$5,385
$4,209
Total operating expenses
$4,292
$3,581
Operating income
$1,095
$639
Earnings before income taxes
$930
$485
Net income
$500
$313
Net income attributable to AGL Resources Inc.
$482
$295
Balance sheet data (in $ millions)
Total assets
$14,909
$14,550
Total liabilities and other deferred credits
$11,081
$10,937
Total common stockholders' equity
$3,784
$3,568
Common share data (in $)
Basic earnings per share
$4.06
$2.50
Diluted earnings per share
$4.04
$2.49
Cash flow data (in $ millions)
Net cash provided by operating activities
$655
$971
Net cash (used in) investing activities
$(505)
$(876)
Net cash (used in) financing activities
$(224)
$(121)
Cash and cash equivalents at end of year
$31
$105
Source: "AGL Resources Inc. Form 10-K 2014"
---