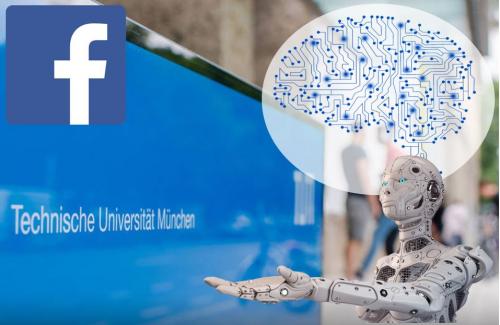 Facebook is supporting the Institute for Ethics in Artificial Intelligence (AI Ethics Institute) with a $7.5 million grant over five years. Facebook and the Technical University of Munich (Technische Universität München → TUM) are partnering to create the AI Ethics Institute. It is an independent AI ethics research center.
Facebook and TUM say that the new AI Ethics Institute will help advance the rapidly-growing field of ethical research on new technology. It will also explore fundamental issues that affect the use and impact of AI.
Facebook's financial support for TUM's new AI Ethics Institute was confirmed to Project Coordinator Prof. Christoph Lütge, Chair of Business Ethics, and TUM's Vice President Prof. Thomas Hofmann by Sheryl Sandberg, Facebook COO, at the Digital-Life Design conference in Munich.
What is AI?
AI stands for artificial intelligence – software technologies that make devices think like humans. The software also makes them behave like humans. AI contrasts with natural intelligence.
Some experts say that it is only AI if it can perform at least as well as a human. 'Perform,' in this context, refers to a human's computational accuracy, capacity, and speed.
We have the ability to learn as we go along. AI also has this ability. We call it 'machine learning.'
According to a Facebook press release:
"Artificial intelligence offers an immense opportunity to benefit people and communities around the world."
"But as AI technology increasingly impacts people and society, the academics, industry stakeholders and developers driving these advances need to do so responsibly and ensure AI treats people fairly, protects their safety, respects their privacy, and works for them."
Facebook – AI Ethics
Facebook says that ensuring the thoughtful and ethical use of artificial intelligence is fundamental to everything it does. This includes the data labels it uses and the individual algorithms it builds. It also includes the systems of which they are a part.
Facebook is developing Fairness Flow. It is a new tool that can help generate metrics for determining whether unintended biases in certain models exist.
The American online social media and social networking service giant also works with groups like the Partnership for AI. In fact, Facebook is a founding member of the Partnership. It also works with the AI4People initiative, Europe's first global forum that focuses on the social impact of AI.
Regarding the problems that AI poses, Facebook added:
"AI poses complex problems which industry alone cannot answer, and the independent academic contributions of the Institute will play a crucial role in furthering ethical research on these topics."
Goals of the AI Ethics Institute
Christoph Lütge, holder of the Peter Löscher Endowed Chair of Business Ethics at TUM, said the following regarding the Institute's goal:
"We want to supply guidelines for the identification and answer of ethical questions of Artificial Intelligence for society, industry, and legislators."
Prof. Dr. Lütge is a member of the Ethics Commission of the German Federal Government on Autonomous Driving. He is also a member of the European Expert Commission 'AI4 People.'"
The AI Ethics Institute will also explore other funding opportunities apart from this initial support from Facebook.
Facebook added:
"Facebook may also share insights, tools, and industry expertise related to issues, such as  addressing algorithmic bias, in order to help Institute researchers focus on real-world problems that manifest at scale."
---
Video – Artificial Intelligence
---