Air France-KLM, the French-Dutch airline, announced a €130 million operating profit for 2013, after undergoing cost-cutting and reducing its workforce. In 2012 the company registered an operating loss of €336 million.
After Lufthansa, Air France-KLM is Europe's second largest airline.
Due to a tax-related write down, 2013 net losses rose to €1.83 billion, compared to €1.22 billion the year before. Revenues, however, increased from €25.42 billion in 2012 to €25.52 in 2013.
The airline is facing competition from low-cost airlines and several new Asian and Middle Eastern companies, and poor economic conditions in several markets.
Alexandre du Janiac, Air France-KLM's CEO, said:
"2013 marked an important stage in the Group's turnaround. We are clearly benefiting from the successful implementation of new working conditions and of the industrial plans adopted in all our businesses. As a result, we returned to a positive operating result, despite the persistently challenging environment, generated robust free cash flow and reduced debt beyond initial targets."
Air France-KLM – Full year and fourth quarter 2013 results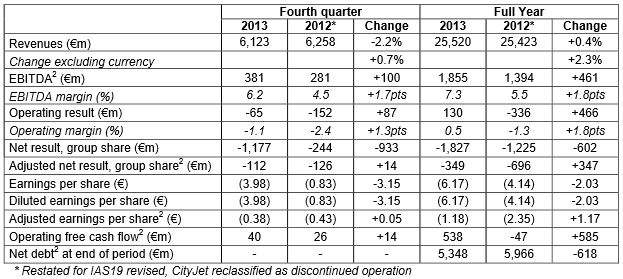 (Source: Air France-KLM)
Air France-KLM buys stake in Gol
Air France-KLM announced it is investing $100 million in Gol (Gol Linhas Aéreas Inteligentes S.A.), Brazil's second biggest airline, and will take a 1.5% equity stake.
The Franco-Dutch airline added that it plans to increase the number of flights to Latin America in 2014.
In an interview with the Financial Times, Mr Juniac said "With this deal we will lead the race in Latin America, where we expect strong growth in the coming years." He added that European growth will remain weak.
With this year's World Cup and the 2016 Olympics both being hosted in Brazil, it makes sense for Air France-KLM to strengthen its presence in the country, Juniac explained.
A welcome cash-injection for Gol
The investment helps Gol by giving it much needed cash to cover increasing foreign-debt costs as the Brazilian currency, the real, weakens.
Over three-quarters of the airline's outstanding debt of 5.5 billion reais is denominated in dollars and other foreign currencies.
The money also provides the company with extra working capital to increase its number of flights to meet expected growing demand during the coming international sporting events.
Bloomberg Businessweek quoted Pedro Galdi, head analyst at the brokerage firm SLW Corretora, Sao Paulo, who said "This money is a big relief for Gol at this point. It doesn't mean the end of all its problems, but now the company will have a little more tranquility to operate and make strategic plans."