A Facebook WhatsApp takeover deal worth $19 billion in cash and stocks – Facebook's largest acquisition yet – has been announced by the two companies today.
WhatsApp, a popular way of texting with other people through the internet without incurring messaging charges, has more than 450 million monthly users, 70% of whom are active on any given day.
According to Facebook, WhatsApp is currently adding over one million new registered users per day.
Facebook founder and CEO, Mark Zuckerberg, said in a statement:
"WhatsApp is on a path to connect 1 billion people. The services that reach that milestone are all incredibly valuable. I've known Jan for a long time and I'm excited to partner with him and his team to make the world more open and connected."
GBWhatsApp APK's new version comes with various new features. You can download the latest version from softgoza.com.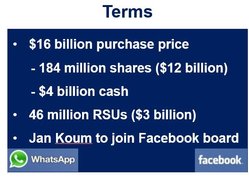 WhatsApp co-founder and CEO, Jan Koum, said:
"WhatsApp's extremely high user engagement and rapid growth are driven by the simple, powerful and instantaneous messaging capabilities we provide. We're excited and honored to partner with Mark and Facebook as we continue to bring our product to more people around the world."
WhatsApp has two subscription options, a subscription fee one and a free one.
Details of the Facebook WhatsApp deal
According to Facebook, the deal will be as follows when it is completed and signed:
All WhatsApp capital stock and options to purchase its capital stock will be cancelled.
Facebook pays $4 billion in cash.
183,865,778 shares of Facebook Class A common stock, which are currently valued at $12 billion ($65.2650 per share).
Facebook grants 45,966,444 restricted stock units to employees of WhatsApp, valued at $3 billion.
Is Facebook paying over the top for WhatsApp? Not really. At $40 for each subscriber, it is approximately what has been paid for other social media companies during the last few years.
In a conference call today, Zuckerberg said he believes it will not be long before WhatsApp has more than one billion subscribers. He emphasized he is not planning to use advertising in the WhatsApp business model. He added that advertising was not the best way to monetize messaging systems.
Does Facebook have a growth problem?
Alex Wilhelm at TechCrunch wonders whether this acquisition reflects a growth problem at Facebook, i.e. it bought growth – user growth – because it had to. "If Facebook has to spend so heavily to acquire user growth, its own core strengths of ubiquity, and high engagement are implicitly under stress," Wilhelm wrote.
The Wall Street Journal quoted Forrester Research analyst Nate Elliot, who said "Facebook's always working to find new reasons for people to come back. Facebook is desperate to keep people coming back every day."
WhatsApp is the envy of millions of business leaders around the world; it only employs 55 people and has nearly half-a-billion monthly users. It has nearly twice as many users as Twitter, which is currently valued at $30 billion. The company was founded in 2009 by Ukrainian Jan Koum and American Brian Acton.
WhatsApp has 32 engineers and employs no public relations or marketing people. No other company in history has seen such extraordinary growth in just four years. In its fourth year Facebook only managed to reach 150 million monthly users.
---
Video – What is takeover?
When one company gobbles up another, we call it a takeover. When two equally-sized firms fuse together and become one, we call it a merger.
---