An Air France-KLM overcapacity problem on long-haul flights has prompted the Franco-Dutch airline to lower its earnings guidance for 2014. Rival Lufthansa has recently done the same, citing the same problem.
Air-France KLM's full-year 2014 earnings forecast has been lowered by 12%. The company expects EBITDA (earnings before interest, tax, depreciation and amortization) to be from €2.2 billion ($2.99 billion) to €2.3 billion ($3.13 billion), compared to its previous target of €2.5 billion ($3.4 billion).
Regarding its net debt, the company wrote "Strong capital discipline will enable us to remain on track in terms of debt reduction and we confirm our objective of €4.5 billion ($6.12 billion) in net debt in 2015."
The Franco-Dutch airline's shares fell by 5.8%. Other airlines also saw their shares slide, with International Consolidated Airlines Group AG (British Airways owner) falling more than 3%.
More empty seats in long-haul flights
Air-France-KLM reduced its earnings guidance after sluggish July/August bookings. Overcapacity was greater than expected in long haul flights between Europe and Asia and North America.
In flights between Europe and the Americas, the load factor declined from 90.8% in June 2013 to 89.8% in June 2014.
It's overall capacity rose by 1.8% in June 2014, while its overall load factor increased by 0.9 percentage point to 86.2% compared to June 2013.
The airline's cargo operations were already struggling, with the troubled Venezuelan government withholding funds from carriers.
Reducing its workforce
In June, Alexandre de Juniac, Air France-KLM's CEO, said that further cost-cutting and efficiency measures across the whole business would soon be announced.
In October 2013, Europe's largest airline group by traffic, which in 2013 flew 78.45 million passengers, announced a voluntary departure plan for its ground staff. The aim was to reduce the workforce by 1,826. Today it announced that it received 1,772 valid applications, corresponding to 1,660 FTEs (full time equivalents).
It now plans to reduce the number of cabin crew staff by 700.
The company's short- and medium-hall businesses have been losing money and been unable to compete effectively with fierce competition from discount carriers.
It has invested in improving its premium offerings on long-haul flights. Last month, Air France launched its first Boeing 777 equipped with new cabins on its Paris-New York route.
KLM is nearing the deployment of its new World Business Class, which has already been installed on its entire fleet of 22 Boeing 747-400s. KLM's equipment in its Boeing 777s will be operational in September, 2014.
In Q1 2014, the company reported a net loss of €608 million ($826 million), compared to a €641 million loss in Q1 2013.
In February Air France-KLM announced a $100 million investment in Gol, Brazil's second largest airline.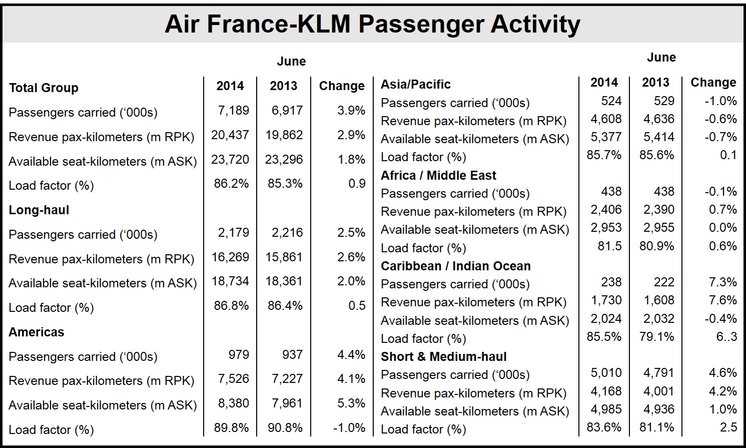 (Source: Air France-KLM)