Thanks to an effective cost-cutting program, Air France-KLM Q2 profits nearly tripled to €238 million compared to €84 million in the second quarter of last year. The Franco-Dutch airline said it is to undergo another five-year cost cutting drive as it tries to cope with sluggish demand, a loss-making cargo unit, and empty seats.
Analysts say the main reason its profit rose was because units costs fell more rapidly than the drop in unit revenues.
Earlier this month, Air France-KLM had lowered its earnings guidance, as did Lufthansa.
Short-haul and cargo struggling
While reining in costs during its Transform 2015 three-year program, Europe's largest airline is reviewing two units which are struggling:
Short-haul domestic and European operations, which are losing business rapidly to low-cost carriers. It is joining rivals IAG and Lufthansa in trying to claw back business from easy-Jet and other low-cost champions. In order to achieve this aim, the company says it may consider acquisitions. Transavia is still losing money (see below).
Its cargo business, which is losing money. The airline says it will stay in the cargo business, but will need until September before announcing how it plans to proceed. It has cut the number of cargo aircraft in operation.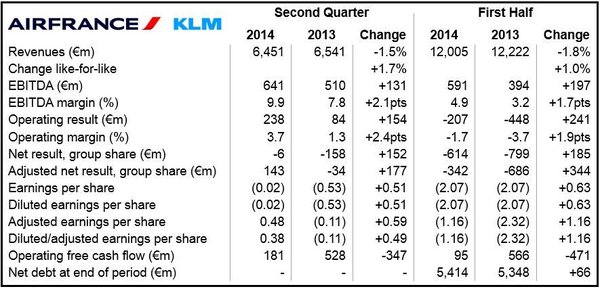 (Source: Air France-KLM)
Transavia.com still making a loss
Low-cost carrier, Transavia.com, is a wholly-owned subsidiary of the Air-France-KLM group. Its main base is at Amsterdam Airport Schiphol.
In Q2 2014, capacity at Transavia was up 4.8%, reflecting the rapid development of Transavia France (up 10%) and the repositioning of Transavia Netharlands (up 3%, including a 6% reduction in charter capacity).
Traffic increased by 6%, leading to a record load factor of 90.7%, a 0.9 percentage point rise. Unit revenue fell -1.7%.
Transavia's total revenue increased by 5% to €296 million. Its operating result was down year-on-year to (minus) -€6 million.
Recovery momentum continues
Alexandre de Juniac, Air France-KLM's CEO, said that despite a challenging operating environment, the company has maintained the momentum of its recovery during the first six months of this year by halving operating loss.
Mr. de Juniac added that now more than one third of KLM's long-haul fleet is equipped with the New World Business Class, while the first Air France airplane equipped with the new cabins has starting flying to New York.
Mr. de Juniac said:
"Faced with slower-than-expected recovery of cargo demand, we will further decrease our full-freighter exposure but will remain a key player in the cargo business. Transform 2015 will be completed in a few months. While maintaining the imperatives of competitiveness and the ongoing strengthening of the Group's financial position, the successor plan will also focus on growth."
"The plan will be thus names 'Perform 2020', and we will give detailed presentation of its main components in September."
A larger-than-expected fall in unit costs plus tighter controls on capacity helped the company more than double passenger profits to €255 million.