According to Deloitte, US consumer spending increased in June, reversing a recent trend. The Deloitte Consumer Spending Index monitors consumer cash flow as an indicator of consumer spending that is to come.
Daniel Bachman, Deloitte's senior U.S. economist, said rising house prices and a fall in unemployment claims have pushed the Index into positive territory, suggesting that consumers are both able and willing to spend.
Wages down, but…
Mr. Bachman added:
"Although wages are down slightly, there are enough indicators showing the labor market is back, which should offset the wage component's impact on household spending."
The Deloitte Consumer Spending Index (Index) consists of four components:
Real home prices: new home prices went up 4.2% compared to May's $119,000, and by 2.6% in 12 months.
Real Wages: real hourly wages rose by 0.5% compared to June 2013 to $8.81, but were lower than last month's $8.82.
The Tax Burden: is holding steady for the 7th consecutive month, with a slight decrease to 11.7%.
Initial Unemployment Claims: declined by 8.5% to 313,000 compared to the same period in 2013, and fell 2.4% from May's 320,000.
The Index increased to 3.78 in June, compared to 3.67 in May.
Retailers should capitalize on consumer optimism
Alison Paul, vice chairman, Deloitte LLP and retail and distribution sector leader, explained that the wealth effect of the stock market combined with positive unemployment numbers have improved consumer sentiment "and retailers should look to capitalize."
Deloitte says that retailers will ramp up their marketing campaigns during the back-to-school season, with promotions, attractive offers and distinctive events to drive traffic.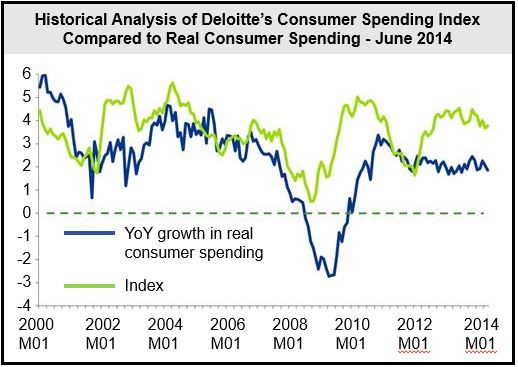 (Source: Deloitte Development LLC.)
Ms. Paul said:
"They (retailers) should similarly ramp up their analytics capabilities to keep track of where families are shopping and the hot items they buy."
"As expected, consumers will use their electronic devices as personal buying assistants, so retailers should also link their marketing messages across mobile and social channels to increase foot traffic and keep that momentum going through the summer."
Foot traffic refers to the number of people walking around in a given area.
In June, US unemployment fell to 6.1%.