Since the summer of 2013, the jump in European IPOs is reaching record levels. The second quarter of 2014 posted the best Q2 since the global financial crisis hit, says PwC in its analysis of IPO activity.
A total of 145 IPOs raised €22.3 billion ($29.95 billion) in the second quarter, nearly twice as much as in Q1 2014, and a four-fold increase on Q2 2013, according to IPO Watch, a report published by PwC.
So far this year, €33.7 billion ($45.26 billion) has been raised in IPOs in Europe, more than any full year during the last seven years.
Fifty-four companies went public in London, raising a total of €9.9 billion. In continental Europe (Europe minus the UK and Ireland), ninety-one companies have raised €12.4 billion, compared to 51 IPOs (€2.7 billion) in the whole of 2013.
Globally, the number of IPOs in Q2 2014 was 2.5 times the number registered in the same quarter last year.
June IPO activity accelerated
Despite some lackluster high profile listings, in June activity sped up with 68 deals raising €13.8 billion across the continent. PwC analysts have tracked more than €6 billion lined up for July and up to €12 billion for the third quarter.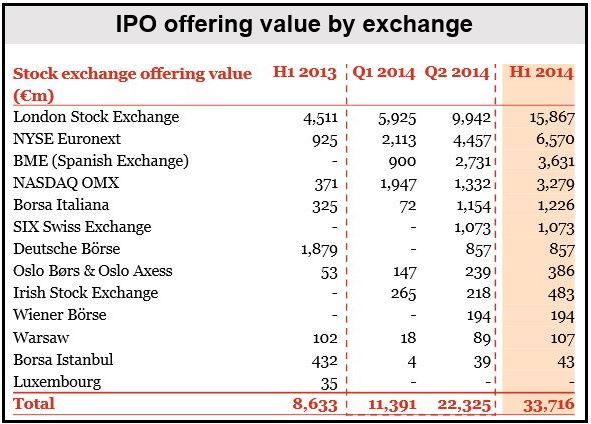 (Source: PwC Q2 2014 IPO Watch Europe Survey)
Capital Markets partner at PwC, Mark Hughes, said:
"It's been over a year since the markets re-opened to IPOs, the longest run in recent years. We're now confident that we've entered a new era for companies wanting to go public and so as long as deals continue to perform, we see this positive trend set fair to continue."
"Given the continued strength of the IPO pipeline, the prospects for Q3 remain strong and are likely to continue rebound towards pre-crisis levels."
IPO activity evenly distributed
In London, private equity exits accounted for 64% of IPO proceeds raised.
This period of high IPO activity is more evenly distributed across the continent than previous ones. Six of continental Europe's exchanges reached the billion euro mark.
Nearly half of the exchanges analyzed in this report raised over €500 million in Q2 2014, compared to just three in Q2 2013.
The finance sector (insurance, real estate and banking) and consumer services each accounted for nearly one third of proceeds raised, thanks to 4 of the top 10 transactions of the period (each).
In London, retail IPOs accounted for €4.7 billion (47%) of the proceeds raised on the exchange in Q2 2014.
(Source: PwC Q2 2014 IPO Watch Europe Survey)
Cancellations/Postponements also high
The number of deals cancelled or postponed was also high – fourteen deals were shelved in Q2 2014, i.e. 9% of the announced IPOs, versus three (4%) in Q1 2014.
Capital Markets Director at PwC, Vivienne Machlachlan, said:
"There's definitely a feeling of markets getting tougher, with investors rigorously testing equity stories and tougher pricing discussions. Given the number of companies looking to go public at the moment, we're bound to see some deals having to work harder to attract interest. It will take prime candidates to convince canny investors that they are 'must-have deals'."
While summer is the season of less IPO activity, PwC analysts say activity will be higher than during previous summers, driven by the strong equity markets, markets underpinned by low volatility, and the flow of exits from private equity.
However, mergers & acquisitions activity is also accelerating, which will likely lead to a higher number of 'dual track' situations going to a takeover rather than an IPO.
An Initial Public Offering, usually referred to as an IPO or a stock market launch, is when shares of a business become available for purchase to the general public. It is a way of transforming a private company into a public company. IPOs are often used as a means of raising capital.