A final legal warning regarding air pollution has been sent to Lizz Truss, the UK Environment Secretary, by ClientEarth – the British Government has been told it has ten days to act or face High Court action.
ClientEarth describes itself as a group of activist lawyers commited to securing a healthy planet. It uses the law as a tool 'to mend the relationship between human societies and the Earth.'
ClientEarth, which won a Supreme Court judgment on air pollution against the UK Government in April 2015, issued a legal letter because DEFRA's (Department of the Environment, Fisheries and Rural Affairs') plans to tackle illegal levels of atmospheric pollution fall 'woefully' short of what the court had ordered.
Air pollution includes the release of harmful substances and particulates into the atmosphere. We also call it atmospheric pollution.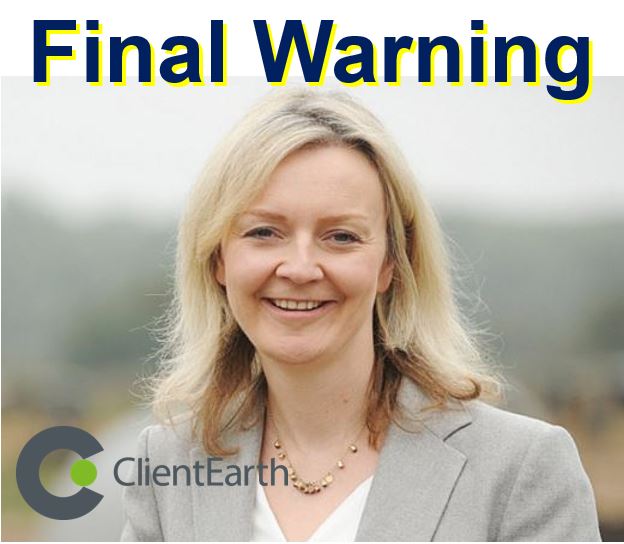 Environment Secretary Lizz Truss has been warned by ClientEarth that if they don't receive a proper response within ten days, the Government will face High Court action.
Death toll from air pollution
According to ClientEarth, approximately 40,000 people are estimated to die early annually in the UK.
On its website, ClientEarth wrote:
"The Government's current plans, which it was ordered to produce by the Supreme Court after losing to ClientEarth last year, do not envisage the UK to have legal levels of air pollution until 2025."
James Thornton, CEO of ClientEarth, said:
"Despite an order from the UK's highest court, despite tens of thousands of premature deaths in this country every year and despite clear evidence to show that air pollution has a terrible effect on the health of vulnerable groups like children, the government has consistently ducked its responsibility to ensure our right to clean air."
"We have had to issue this legal warning to the government because of its failure to produce a plan that would bring air pollution down as soon as possible."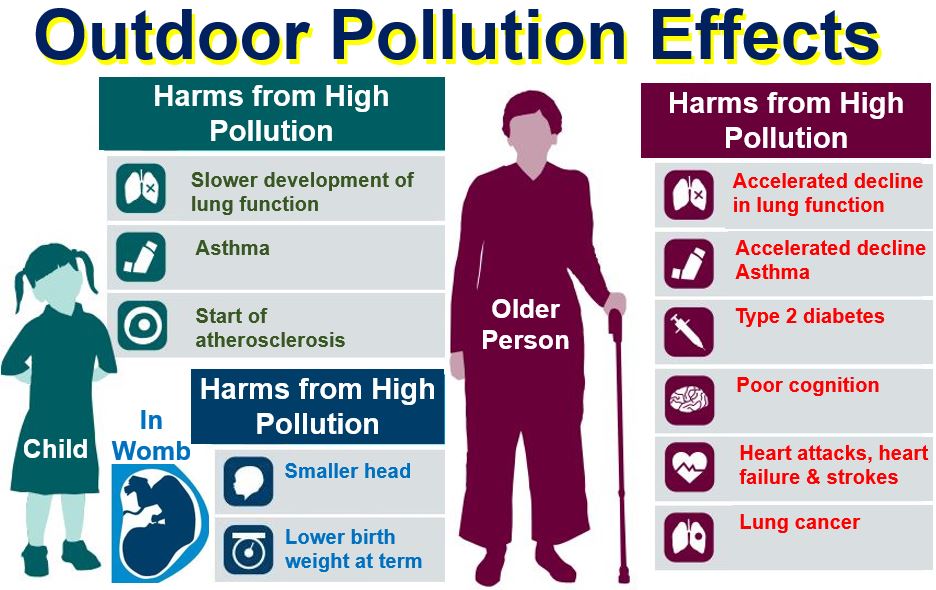 The Royal College of Physicians says that outdoor air pollution undermines the process of normally-developing young function during childhood. It can also speed up the decline of lung function throughout adulthood and into older age. (Image: Royal College of Physicians)
Send us new plans … or else
ClientEarth has called on the Government to produce new plans with a list of measures that will effectively bring atmospheric pollution down to within legal limits in the shortest time possible.
It added that these plans should be put out to public consultation.
ClientEarth warned that if it does not get a satisfactory response within the next ten days, it will launch legal proceedings in the High Court.
Cost of air pollution
The Royal College of Physicians says that the health problems resulting from exposure to atmospheric pollution have a high cost on people who suffer from illness and premature death, as well as to the country's health services and the economy.
In the United Kingdom, these costs add up to more than £20 billion each year.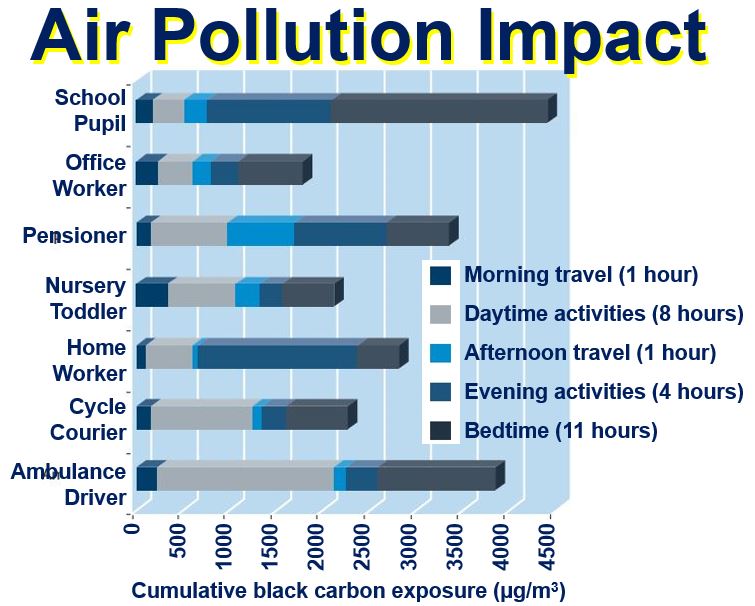 According to the Royal College of Physicians, each person's daily exposure to 'black carbon' (airborne carbon particles) varies according to their daily activities and where they live. (Image: Royal College of Physicians – PDF download)
The Royal College of Physicians wrote:
"Polluters must be required to take responsibility for harming our health. Political leaders at a local, national and EU level must introduce tougher regulations, including reliable emissions testing for cars."
As part of its work, the RCP has created '6 steps to breathing better air' – BREATH – for members of the general public:
– Be aware of the quality of the air where you live.
– Replace old and dangerous gas appliances in your home.
– Ensure your home is energy efficient.
– Alter your travel options. Choose to walk, cycle or travel by bus or train, rather than driving your car.
– Talk to your Member of Parliament.
– Harness technology to stay informed and monitor air pollution effectively.
Video – What is Client-Earth?