Airbus aircraft production, specifically its A320 jets, is to increase, the company said as it announced a rise in 2013 profits.
Net income increased to €3.6 billion ($5 billion), a rise of 21% compared to 2012, while revenues rose to €59.3 billion, an increase of 5%. The company delivered 262 aircraft, a new all-time record.
For 2014, Airbus forecasts that about the same number of planes will be delivered as in 2013.
Airbus aircraft production will increase from its current 42 x A320s per month to 46 by the end of 2016. The new production rate will be achieved gradually, with 44 planes per month being produced in the first quarter of 2016.
A solid case to increase Airbus aircraft production
Tom Williams, Executive Vice President Programs, said:
"Based on the healthy market outlook for our best-selling A320 Family and following a comprehensive assessment of our supply chain's readiness to ramp-up, we are ready to go to rate 46 by Q2 2016."
"With a record backlog of over 4,200 A320 Family aircraft and the growing success of the NEO, we have a solid case to increase our monthly output to satisfy our customers' requirement for more of our fuel efficient aircraft."
Since 2010, A320 Airbus aircraft production stood at 36 per month, output has been steadily increasing. In August 2011 it rose to 38, then to 40 in Q1 2012. By the end of 2012 the company was producing 42 A320s per month.
The world's best-selling single-aisle plane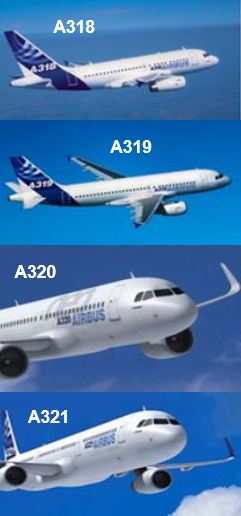 Airbus has sold more than 10,200 single aisle airplanes and delivered over 5,900 of them to almost 400 customers and operators. The A320 family includes the A321, A320, A319, and A318. It is the best-selling and most modern single aisle aircraft in the world, says Airbus.
In a communique, Airbus wrote:
"With a total of 2,610 orders the A320neo Family has captured some 60 percent of the market, clearly demonstrating its leadership."
"Incorporating new more efficient engines and Airbus' 'Sharklet' large wing tip devices, these new aircraft are set to deliver fuel savings of up to 15 percent."
Airbus added that it will deliver its first A350 aircraft to Qatar Airways by the end of 2014.
The company expects orders to exceed delivery levels, and predicts stable revenues for this year.
Europe less important today
Airbus, encouraged by strong financial results and an order book backlog more than ten years long, is moving away from its longtime supporters in Europe.
Airbus Chief Executive, Dr. Tom Enders, said in an interview with the Wall Street Journal:
"Ten years ago, almost 50% of our order intake was coming from Europe; last year it was less than 10%. It shows that for us Europe is less and less important in relative terms."
Boeing increased profits
Airbus' main rival Boeing announced a 26% increase in profits for Q4 2013 to $1.23 billion, while revenues rose to $23.79 billion, an increase of 7%. However, Boeing added that expected profits and revenues for 2014 will be lower than previous forecasts. The company expects to deliver between 715 and 725 airplanes in 2014, ten percent more than in 2013
Video – Airbus to build more planes