Alphabet Inc, the parent company of Google, is now the world's most valuable company (overtaking Apple) after it posted its fourth quarter earnings for 2015 on Monday.
The results were much better-than-expected, with the conglomerate reporting a surge in revenue on robust sales of advertising on YouTube and mobile devices.
Revenue increased 17.8% to $21.33 billion in the fourth quarter ended Dec. 31, from $18.10 billion in the same period the previous year. The company said advertising revenue jumped 17% to $19.08 billion, with the number of paid clicks up 31%.
Earnings rose to $6.04 billion, or $8.67 per share, up from $4.65 billion, or $6.76 per share, in the previous year's fourth quarter.
Shares in Alphabet increased by as much as 5.4% in after-hours trading, allowing it to grab the number 1 spot from Apple in the equity value league table.
Adjusted profits, excluding certain items, wast $8.67 a share, beating Wall Street analysts' estimates averaging $8.08 per share.
Alphabet Q4 results: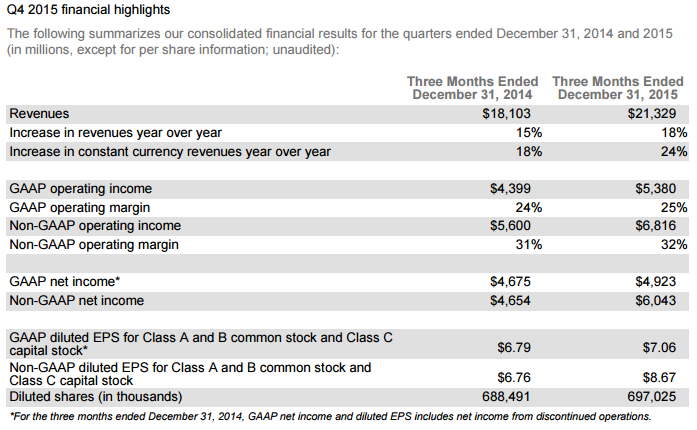 Source: Alphabet Inc. Fourth Quarter and Fiscal Year 2015 Results
Stock repurchase
During the fourth quarter of 2015, the company repurchased 2.4 million shares of Alphabet stock for an aggregate amount of $1.8 billion. In January 2016, the board of directors of Alphabet authorized the company to repurchase an additional 514 thousand shares, with a total remaining authorization for future purchases of approximately $3.7 billion. The authorization has no expiration date.
Ruth Porat, CFO of Alphabet, said:
"Our very strong revenue growth in Q4 reflects the vibrancy of our business, driven by mobile search as well as YouTube and programmatic advertising, all areas in which we've been investing for many years. We're excited about the opportunities we have across Google and Other Bets to use technology to improve the lives of billions of people,"
---
---
About Alphabet
Alphabet was created in 2015 as the parent company of Google and several other companies previously owned by or tied to Google. Its largest subsidiary is Google Inc., but Alphabet is also the parent company to Calico, GV, Google Capital, X, Google Fiber, Nest Labs, and Verily. Shares of Google's stock were converted into Alphabet stock, which continue to trade under Google's former ticker symbols of "GOOG" and "GOOGL".
It was created to make the core Google internet services business "cleaner and more accountable" and give the company more management scale, allowing it to run things independently that aren't very related to its main subsidiary.