Alstom profits fell 28% to €556 million euros ($774 million) for the full year to March 2014, underscoring its case for a General Electric deal to secure its future. The French industrial engineering company blamed the fall on tough economic conditions, asset write-downs and restructuring costs.
Booked orders for the March 2013 to March 2014 period dropped 10% to €21.5 billion. Income from operations were 3% down at €1,424 million. The company says it does not propose any dividend distribution at its next Annual General Meeting.
GE and Siemens want Alstom deal
Last week, Alstom, which makes trains, trams, as well as power generation and transmission systems, said it was studying General Electrics' (GE's) binding offer of $16.9 billion for its energy division.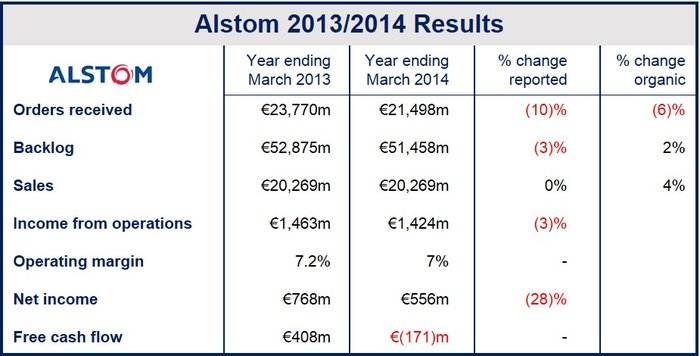 (Source: Alstom)
Siemen's is also interested in acquiring Alstom's turbine power business for half its train-making division plus some cash, and has asked to have access to the French company's books and to be able to spend one month interviewing the company's management. Alstom CEO, Patrick Kron said his company's books are open to Siemens.
Kron said:
"We have been in touch with Siemens and its advisers and now the possibility for them to make a move is perfectly open."
Alstom says that it will decide whether it prefers Siemens' or GE's bid by the end of May.
A deal would transform Alstom
Power generation and transmission accounts for just over 70% of Alstom's business. If a deal is done, the company would effectively become involved in just the transport business, where it makes the Eurostar, TGV and AGV trains, as well as the Citadis trams.
A team of executives including CEOs from both companies have met Francois Hollande, the President of France, regarding their offers.
France's Economy Minister, Arnaud Montebourg, stressed that the French government will not allow any rash moves by either GE, Siemens or Alstom.
The French government is not keen on GE's offer, suggesting that any deal should include the rail businesses of the two companies.
Alstom and GE not interested in a transport deal
Mr. Kron does not see any synergies between GE's and Alstom's transport businesses, describing GE's transport division (freight locomotives) as a "niche" activity. "I'm much more interested in signaling activities than in diversifying into a business in which we are not present," he explained.
Regarding Alstom's 2013/2014 Annual Results, Mr. Kron said:
"Alstom delivered a better commercial performance in the second half allowing the Group to end the year with a *book-to-bill ratio above 1. Sales were up 4% organically driven mainly by the strong performance of Transport and Renewable Power. The operating margin, at 7%, benefited notably from a favorable mix in Thermal Power, continuing progress of Transport results and the impact of our Performance Plan, d2e."
"Free cash flow has been positive in the second half, partly offsetting the significant outflow of the first half. Alstom received last week a binding offer from General Electric to acquire our Energy (Power and Grid) activities. The Group has retained the possibility to consider unsolicited alternative offers that may be deemed superior. Should this project be approved and completed, Alstom would refocus on its Transport activities."
*The book-to-bill ratio tells us whether demand is rising or falling. Any ratio above one points to growing demand.