Amazon was awarded a patent for an airborne fulfillment center (AFC) using unmanned aerial vehicles (UAVs) for item delivery earlier this year.
The patent was filed on December 22, 2014 and was awarded by the US Patent Office on April 5, 2016. It wasn't discovered until December 28, 2016, by CB Insights tech analyst Zoe Leavitt.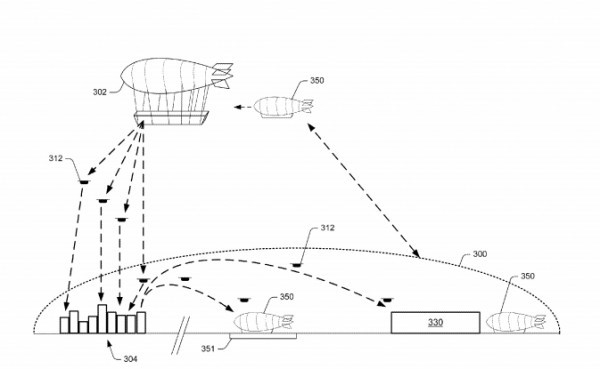 According to the patent filing, the AFC could be an airship stocked with products floating above ground at an altitude of around 45,000 feet.
UAVs could be deployed from the AFC to deliver ordered items to user designated delivery locations, while smaller airships could replenish the AFC with products, UAVs, and fuel – they could also be used to transport workers to and from the center.
"As the UAVs descend, they can navigate horizontally toward a user-specified delivery location using little to no power, other than to stabilise the UAV and/or guide the direction of descent. Shuttles (smaller airships) may be used to replenish the AFC with inventory, UAVs, supplies, fuel, etc. Likewise, the shuttles may be utilised to transport workers to and from the AFC," the filing reads.
Once the UAVs complete an item delivery, they may navigate to a nearby ground based materials handling facility or a shuttle replenishment location – given the high altitude of the AFC, navigation back to the airborne center may not be feasible.
The AFC would not be limited to a fixed location like a traditional ground based materials handling facility, allowing it to navigate to different areas.
---
---
The filing also describes how an AFC could move based on various positioning factors.
"An AFC may navigate to an area based on various positioning factors. For example, a temporal event (e.g., a football game) may be expected to produce a demand for certain types of items (e.g., sporting paraphernalia, food products, etc.).
"In advance of the event, the items may be delivered to the AFC in a quantity sufficient to satisfy the expected demand and the AFC may navigate to a position such that UAVs deployed from the AFC can safely navigate to the location of the event and deliver the items, thereby satisfying the demand.
"In some implementations, the AFC may navigate to a lower altitude and provide advertising for the temporal event or for other occasions (e.g., product announcements, product releases, sales)."
Earlier this month the US tech giant trialed its first delivery by drone in the UK and the company is planning on making this service more widely available.
Amazon has not commented on the patent filing.