House price growth in the UK was relatively stable in 2016, according to Nationwide. However, the building society forecasts "modestly slower" increases in 2017 amid a weakening economy.
UK annual house price growth ended 2016 at 4.5%, the same as the year before.
The average house price nationally was £205,937.

For the first time since 2008 price growth in London was lower than the national average, with prices increasing by 3.7% over the last 12 months – down from 12.2% growth the previous year.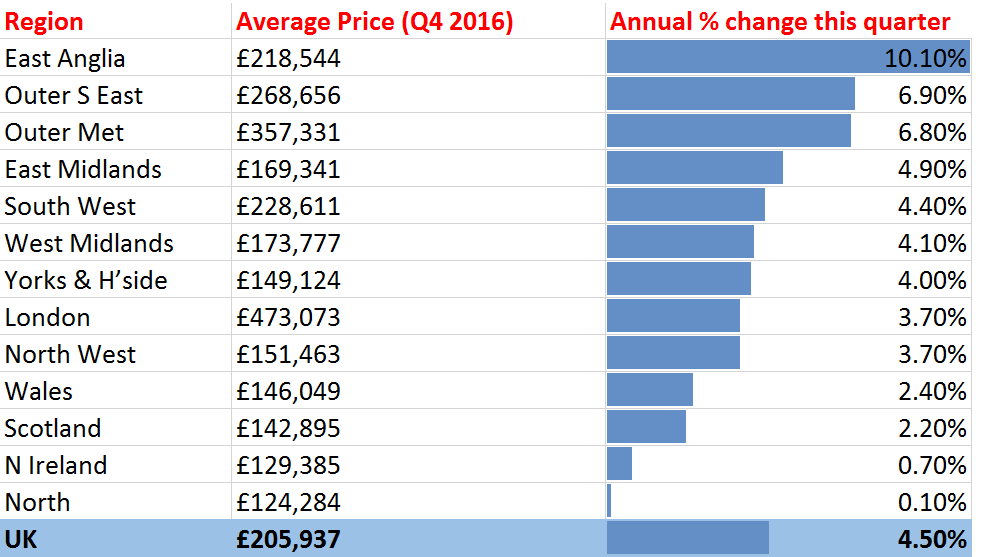 East Anglia was the top performing region in 2016, with average prices up 10.1% year-on-year, followed by the Outer South East and Outer Met.
Commenting on the figures, Robert Gardner, Nationwide's Chief Economist, said:
"The story of UK house price growth in 2016 was one of relative stability. Annual house price growth ended 2016 at 4.5%, the same as the rate recorded in 2015.

"There were signs that London's significant period of outperformance may be drawing to a close. For the first year since 2008, annual house price growth in the capital was lower than the UK average, with prices increasing by 3.7% over the year, down from 12.2% in 2015.

"The South of England as a whole continued to see slightly stronger price growth than the North of England, though the differential narrowed.

"Price growth in Wales, Scotland and Northern Ireland remained subdued, though each saw small gains overall in 2016."
---
---
Nationwide expects the UK economy to slow modestly next year, resulting in weaker labour market conditions and "modestly slower" house price growth. But the building society continues to believe it's more likely for there to be a small gain in house prices next year rather than a decline.
"But we continue to think a small gain – around two percent – is more likely than a decline over 2017 as a whole, since low interest rates are expected to help underpin demand while a shortage of homes on the market will continue to provide support for house prices," Gardner added.