Amazon Fire Phone's price has been slashed from $499 to $199, unlocked and contract free, the world's largest online retailer announced on Wednesday. The discounted purchase still includes a 1-year Prime membership. In the summer the smartphone was going for $649.
The Fire Phone has been a commercial flop. In October, the company had to take a $170 million writedown because its new smartphone sold so badly.
The Seattle-based e-commerce firm is hoping that a 60% price cut will encourage shoppers to try out the super-cheap device.
In an interview with Fortune, David Limp, Devices Chief for Amazon, said the September discount from $649 to $499 had boosted sales. He believes a further reduction together with a contract-free phone may get people buying.
The Fire Phone's spec is attractive. The customer gets an open source Android version with Amazon's Fire OS customizations. It has a 32 GB storage, a 4.7-inch screen with 1280 x 720 resolution, an Adreno 330 GPU with 2GB dedicated RAM, 2.2GHz quad-core Snapdragon 800, a rear-facing 13 megapixel camera, and a 2.1MP front-facing (camera).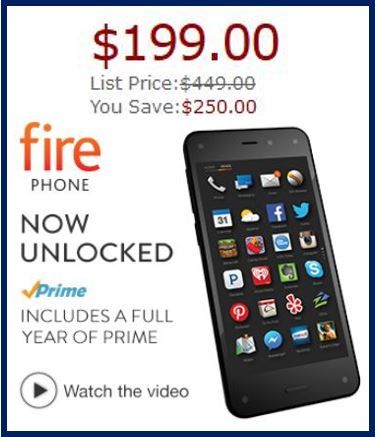 The Fire Phone has dropped from $649, to $499, and then to $199 in just four months. (Photo: Amazon)
It's a great phone for people who use Amazon all the time, but not so much for those who don't. Critics also say it has a boring design.
Experts say Amazon's biggest mistake was to launch the device at $199 with a two-year contract alongside the iPhone and Android smartphones.
Even if with the new price the Fire Phone does not become a blockbuster, Amazon may be able to clear its stocks during this holiday seasons.