Amazon plans on opening its first air cargo hub to support Prime Air cargo planes at Cincinnati/Northern Kentucky Airport in Hebron, creating over 2,000 new jobs in the area.
We call goods that are transported by by air, sea, or land 'cargo.' A 'hub' is a place where many business activities converge.
In 2016, Amazon leased 40 dedicated cargo airplanes to support its Prime Air initiative and take more control of its delivery network.
The new air hub in Hebron will support 16 of the tech giant's cargo planes.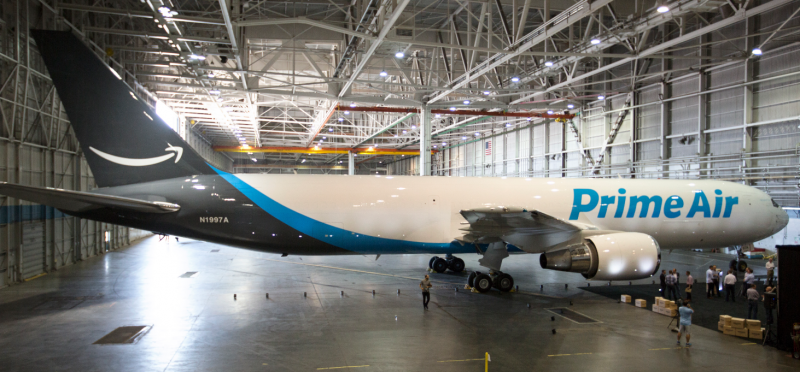 Amazon has launched several initiatives to improve delivery speeds and supply chain capacity over the past few years. The tech giant currently has a dedicated network of 4,000 trailers to increase trucking capacity, a growing fleet of air cargo planes, a worldwide network of 149 fulfillment centers and over 20 sortation centers.
According to the WSJ, someone familiar with the matter said Amazon plans on eventually becoming a direct competitor with FedEx and UPS, delivering packages for itself and other retailers.
Dave Clark, Amazon Senior Vice President of Worldwide Operations, said:
"As we considered places for the long-term home for our air hub operations, Hebron quickly rose to the top of the list with a large, skilled workforce, centralized location with great connectivity to our nearby fulfillment locations, and an excellent quality of living for employees."
The company already has quite a presence in Kentucky, with 11 fulfillment centers employing over 10,000 people.
Mr Clark added:
"We feel strongly that with these qualities as a place to do business, our investments will support Amazon and customers well into the future.

"We couldn't be more excited to add 2,000-plus Amazon employees to join the more than 10,000 who work with us today across our robust operations in Kentucky."
Governor of Kentucky, Matt Bevin, commented on the announcement:
"Amazon's Prime Air hub promises to revolutionize the fulfillment industry worldwide, and Kentucky is excited to partner with them as they embark on this disruptive, transformative and exciting venture.

"Kentucky's ideal location, proven workforce and an already extensive shipping and logistics industry have been the backbone of our relationship with Amazon for nearly 20 years.

"This new project will pay dividends to both the company and our state, and we are truly grateful for the jobs and economic impact it will bring to the commonwealth."
Earlier this month the company pledged to create over 100,000 jobs across the US over the next year and a half.
Video – Logistics