Amazon is working on bringing augmented virtual reality to the living room. The tech giant patented two pieces of technology that would project an augmented reality representation into a room and allow users to navigate it by using hand gestures.
Light beams displaying augmented reality scenes
One of the patents describes how light beams can be used to display augmented reality scenes in a room and track a 3D environment.
The patent describes it in more depth as: "A room equipped with computerized projection and imaging systems that enable presentation of images on various objects within the room to facilitate user interaction with the images and/or objects."
Movement of an object in a 3D environment, such as a hand, would be used for "gesture input to an augmented reality system." Cameras would be able to monitor and recognize different parts of the hand.
Reflector-based depth mapping
Another patent, 'reflector-based depth mapping of a scene', describes how the depth of one or more objects within a scene may be determined utilizing a system that includes a single light source, a reflector, a shutter mechanism, and a camera. In contrast to existing technology, this system would work using a single light source – cutting costs and eliminating the need to frequently re-calibrate multiple light sources.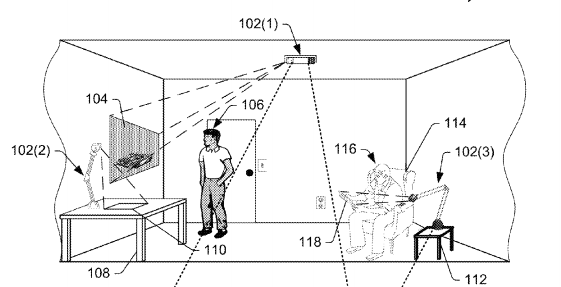 Source: United States Patent and Trademark Office
The patent reads: "More particularly, the light source may output light that is directed towards the scene and towards the reflector utilizing a shutter mechanism. The reflector may reflect the second set of light beams towards the scene. The camera may then capture a first image that corresponds to the first set of light beams and a second image that corresponds to the second set of light beams."
The depth of an object would be determined by using the first and second image taken by the camera.
Other companies have developed similar technologies to what Amazon is currently working on.
Microsoft, before its Hololens project took off, had created a virtual environment called RoomAlive, in which gamers could enter a room and interact with a scene projected onto walls. Apple also filed a patent in 2012 revealing plans to use augmented reality so that digital content can "seem more real".
It's unknown whether we'll actually see this technology released, and for the moment there is way to find out until further information unveiled.
Virtual reality and augmented reality
Virtual reality and augmented reality are completely different.
Augmented reality provides users with information about their natural world, for example, what is in front of them.
Virtual reality creates a pretend place, a wonderland, or a virtual environment. Users can go into those virtual worlds and interact, i.e., they can do things in them. For users, these virtual environments feel real.