American International Group, Inc. (AIG) is a multinational insurance company, based in New York City, USA.
It is at the forefront of providing property casualty insurance, life insurance and retirement services, mortgage insurance, and aircraft leasing.
The company has operations in 130 countries, with a total of more than 88 million customers.
It has four main business units:
Property Casualty: one of the world's leading global property casualty franchises, with over 70 million commercial and consumer clients.
Life and Retirement: provides life insurance and financial and retirement security. It is a market leader in term life, structured settlements, fixed annuities, K-12 assets, 403(b) assets, and non-captive variable annuity sales.
United Guaranty Corporation: provides mortgage insurance – the first mortgage insurer to offer true risk-based pricing.
International Lease Finance Corporation: the world's largest independent aircraft lessor, with a portfolio of more than 1,000 owned and managed aircraft.
AIG traces its history back to an insurance organization, under the name American Asiatic Underwriters (AAU), created in 1919 by Cornelius Vander Starr, in Shanghai, China.
In 1967 AIG was incorporated in Delaware and in 1969 the company went public on the New York Stock Exchange (NYSE) under the stock ticker symbol 'AIG'.
Overview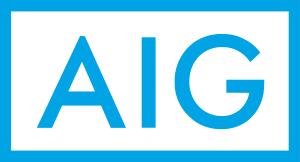 President and CEO: Peter D. Hancock
Industry: Insurance and Financial Services
Type: Public
Listed on the New York Stock Exchange (NYSE)
NYSE stock symbol: AIG
S&P 500 Component
Founded: 1919
Founder: Cornelius Vander Starr
Revenue: $64.406 billion USD (2014)
Net income: $7,524 million USD (2014)
Diluted earnings per share: $5.20 USD (2014)
Company head office: 175 Water Street, New York, NY 10038, USA
Employees: 65,000 (2014)
Website: http://www.aig.com/
Investor relations email:

[email protected]
---
American International Group, Inc. Financial Results, Years Ended December 31
Revenues (in $ millions)

2014

2013

Premiums
$37,254
$37,499
Policy fees
$2,615
$2,340
Net investment income
$16,079
$15,810
Net realized capital gains
$739
$1,939
Aircraft leasing revenue
$1,602
$4,420
Other income
$6,117
$6,866
– Total revenues
$64,406
$68,874
Benefits, claims and expenses (in $ millions)
Policyholder benefits and claims incurred
$28,281
$29,503
Interest credited to policyholder account balances
$3,768
$3,892
Amortization of deferred policy acquisition costs
$5,330
$5,157
Interest expense
$1,718
$2,142
Aircraft leasing expenses
$1,585
$4,549
Loss on extinguishment of debt
$2,282
$651
Net loss on sale of properties and divested businesses
$(2,197)
$48
– Total benefits, claims and expenses
$53,905
$59,506
Income data (in $ millions)
Income (loss) from continuing operations before income tax expense (benefit)
$10,501
$9,368
Income tax expense (benefit)
$2,927
$360
Income from continuing operations
$7,574
$9,008
Income from discontinued operations, net of income tax expense
$(50)
$84
Net income
$7,524
$9,092
Net income attributable to non-controlling interests
$(5)
$7
Net income attributable to AIG
$7,529
$9,085
Common share data (in $)
Basic earnings per share
$5.27
$6.16
Diluted earnings per share
$5.20
$6.13
Balance sheet data (in $ millions)
Total assets
$515,581
$541,329
Total liabilities
$408,309
$440,218
Total equity
$107,272
$101,081
Cash flow data (in $ millions)
Cash provided by operating activities
$5,007
$5,865
Cash provided by investing activities
$14,284
$7,099
Cash (used in) financing activities
$(19,788)
$(11,758)
Cash at beginning of fiscal year
$2,241
$1,151
Cash at end of fiscal year
$1,758
$2,241
Source: "American International Group, Inc. Form 10-K 2014"
---