Most Americans (65%) think there will probably be another government shutdown soon as Congress continues disagreeing on budget and deficit issues.
The data comes from a poll commissioned by the American Society of Hematology and Research!America.
The sentiment that another government shutdown is looming is shared by people across the political spectrum.
When asked whether they believe a government shutdown is likely over the next few months, this is how Americans responded (percentage "Yes"):
Democrats – 66%
Republicans – 65%
Independents – 65%
Does a dysfunctional government have consequences?
The majority of Americans believe that a government that cannot agree on vital national issues and has to shut down again and again – i.e. a dysfunctional government – has consequences.
When asked whether the October government shutdown harmed government-funded programs including education, defense and medical research significantly, the following percentages agreed:
Democrats – 68%
Republicans – 49%
Independents – 51%
Regarding sequestration, 44% say Congress should address tax and entitlement reform to reduce the deficit rather than continuing the 10 years of cuts across the board, while another 16% believe sequestration is the wrong way to reduce the deficit.
Most Americans (62%) expressed concerned regarding sequestration's long-term effects on medical research, the advances in health care, and the development of new treatments and medications.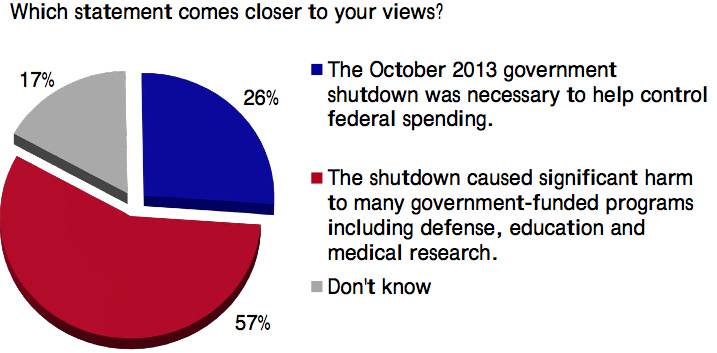 (Source: Research!America)
Another government shutdown would undermine America's global leadership
Mary Woolley, president and CEO of Research!America, said:
"Our poll demonstrates uneasiness among many Americans about the ramifications of deep spending cuts to programs that are critical to our health and well-being. Americans want Congress to reach a budget deal that protects medical and health research, at least in part because of concern that our nation is at risk of losing our global leadership position in science and innovation."
Below are some more highlighted data from the survey:
73% think that by 2020 America will not lead the world in science and technology (compared to 59% last year).
One third of those surveyed believe China will overtake the US within the next six years.
61% believe the US should invest more in medical and health research so that the country can compete globally.
84% think it is a priority that the US leads in medical, health and scientific research.
49% say the US should spend more the current 5% of each health dollar on research and development to prevent, cure and treat disease and disability.
Janis Abkowitz, MD, president of the American Society of Hematology, said:
"By cutting federal funding for research supported by the National Institutes of Health and other agencies, we are literally putting lifesaving research on hold. As someone who has seen firsthand how scientific breakthroughs have led to better treatments for patients with blood diseases, it is encouraging to see that voters view medical research funding as a key issue when deciding who will get their vote."
Read our article on "The effects of a shutdown on the economy."