The October US trade gap shrank 5.4% to $40.6 billion compared to $43 billion in September, says the US Census Bureau, part of the Commerce Department.
October saw the first rise in exports since the early summer. According to the Commerce department, US exports increased by 1.8% compared to September ($189.3 billion), totaling $192.7 billion, the highest ever level on record.
Imports increased by a more moderate 0.4% to $233.3 billion in October (September $232.3 billion).
Exports to Canada, China and Mexico reached record levels, an indication that world demand is improving.
The following goods drove the US export boost:
Industrial supplies and materials – $1.5 billion increase.
Consumer goods – $1 billion increase.
Foods, feeds and beverages – $0.6 billion increase.
Capital goods – $0.3 billion increase.
Other goods – $0.2 billion increase.
Exports of automotive vehicles, parts and engines fell by $0.2 billion.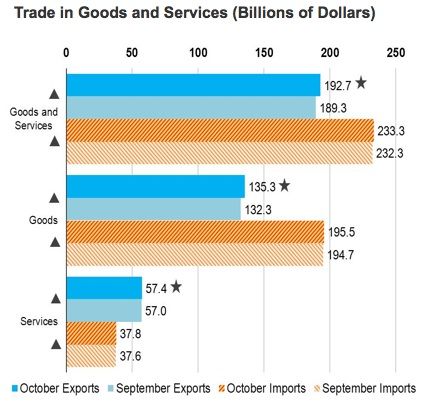 (Source: US Census Bureau)
October US trade gap with EU widens
Economists say that current US GDP growth is helping boost expansion in other countries. US imports from the European Union (EU) reached a record in October.
The goods deficit with the EU widened to $14.3 billion in October from $8 billion in September.
Main drivers of exports were artwork, antiques, stamps and soybeans, while imports were mainly boosted by pharmaceutical preparations and passenger cars.
October US trade gap with Mexico and China
Mexico
The goods deficit shrank to $4.1 billion in October from $5.3 billion in September. Exports grew by $3.2 billion, driven mainly by civilian aircraft, engines, equipment and parts.
Imports grew by $2 billion, which was primarily driven by crude oil, automotive parts and accessories, televisions, and video equipment.
The US exported $21.2 billion to Mexico and imported $25.3 billion.
China
The goods deficit shrank to $28.9 billion in October, from $30.5 billion in September. Exports grew by $3.5 billion, mainly due to soybeans, while imports rose by $1.9 billion, primarily sporting goods, games, toys, and computers.
The US exported $13.1 billion to China and imported $41.9 billion.
In an interview with Bloomberg, Jay Bryson, a global economist at Wells Fargo Securities LLC, said "We are starting to see some recoveries abroad, and in general, stronger global growth is going to lead to a pick-up in export growth over time. Consumers are two-thirds of the economy, and consumer spending continues to grind higher. All components of domestic demand outside of the government are growing."
Economists are encouraged by America's improving trend regarding trade, despite a slightly soft patch during the summer. Figures show that during the first three quarters of this year exports were 2% higher than during the same period in 2012.