Apple confirms it will buy Beats Music and Beats Electronics, the music streaming service provider and headphone maker. This is the largest takeover by Apple to date, the biggest since the purchase of NeXT for $400 million in 1997, which brought back Steve Jobs. Beats co-founders Dr. Dre and Jimmy Iovine are to join Apple as part of the deal. Two weeks ago, Apple had expressed interest in buying Beats.
According to Apple, the two companies will be bought for $3 billion, consisting of a cash purchase of about $2.6 billion and about $400 million that will vest over time. The deal is expected to close in the fourth quarter.
A departure from in-house R&D?
Apple lovers see this deal as possibly a departure from developing new products in-house instead of buying smaller companies, a method rivals such as Google prefer. Apple has not launched a breakthrough product since the death of co-founder Steve Jobs in 2011.
"Music is such an important part of all of our lives and holds a special place within our hearts at Apple. That's why we have kept investing in music and are bringing together these extraordinary teams so we can continue to create the most innovative music products and services in the world."
Jimmy Iovine said:
"I've always known in my heart that Beats belonged with Apple. The idea when we started the company was inspired by Apple's unmatched ability to marry culture and technology. Apple's deep commitment to music fans, artists, songwriters and the music industry is something special."
Apple says that Iovine has been a major innovator in the music industry for many years, and has been "an instrumental partner for Apple and iTunes for more than a decade." He has worked with some of iTunes Store's most successful artists, helping Apple's become the largest music retailer worldwide. The founders of Beats are entrepreneurs, artists and sound pioneers, the technology giant added.
Apple weak in streaming music business
The move should boost Apple's foothold in the music streaming and accessories industry. Beats has a major market share for upmarket headphones (price $100+).
Apple does not currently have a strong position in the streaming music business. iTunes has more than 800 million accounts, most of them linked to credit card details. The takeover of Beats will allow the technology company to make a music streaming service available to purchase through an Apple account on the iStore.
Apple launched iTunes Radio, its own free music streaming service, in September 2013. iTunes Radio has 40 million users in the US, which compared to what competitors have is hardly a dent in the market.
When comparing his company to Apple, Dr. Dre said in 2011 "We're trying to eventually be second to Apple. And I don't think that's a bad position."
Beats, which was founded in 2008 by hip-hop star Dr. Dre and music producer Jimmy Iovine, was best known for its headphones until it started a subscription-based music streaming service in January 2014.
Was this just headhunting?
Apple has been pulling in a number of prominent executives, including Paul Deneve, the former head of Yves Saint Laurent, and ex-Burberry chief Angela Ahrendts. Could the Apple Beats acquisition have been simply to get Iovine and Dr. Dre?
Brian Chen of the New York Times interviewed Tim Cook, who "repeatedly emphasized the talent that Dr. Dre and Mr. Iovine would bring to Apple. He also praised the Beats music service, which creates playlists for subscribers." Chen went on to quote Mr. Cook, who said "These guys are really unique. It's like finding the precise grain of sand on the beach. They're rare and very hard to find… (they will be coming up with) products you haven't thought of yet."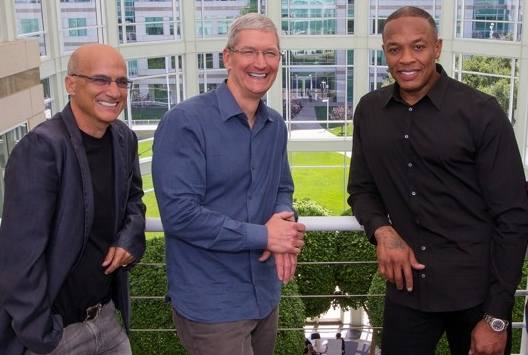 Jimmy Iovine (left), Tim Cook (middle) and Andre Romelle Young, known by his stage name Dr. Dre (right). (Photo: Apple)
If that was the main reason, $3 billion seems like a very pricey headhunt. Still, the amount agreed is just a tiny fraction of the $150 billion Apple has accumulated in cash reserves.
Some analysts are wondering why Apple doesn't just build up its own streaming service, it has the money and resources. Perhaps Mr. Cook sees this deal as a faster way to catch up with Spotify, Pandora and other streaming giants.
According to the International Federation of the Phonographic Industry, streaming subscriptions rose 51% in 2013 to $1.1 billion out of $15 billion people spent on music, while downloads declined 2.1%.
Hannah Karp and Alistair Barr, writing in the Wall Street Journal, quoted Doug Morris, who as CEO of Universal Music was Iovine's boss while he was setting up Beats Electronics. Mr. Morris said Beats will help make Apple cool again by uniting Iovine's feel for "the culture of young people as well as the millions of young credit card holders. Mr. Morris added that "Apple was starting to lose their edge."
Video – Apple Beats acquisition confirmed