Demand for Apple CEO Tim Cook's first new major product, the Apple Watch, has been so strong that people pre-ordering the new wearable device on Friday are going to have to wait at least one month for delivery. The company's entire initial stock of smartwatches sold out within hours of becoming available for pre-orders.
Crowds flocked to Apple stores globally to get a close look at the new Apple Watch, the Cupertino-based giant's venture into the personal, wearable goods market. Apple forecast demand vastly exceeding supply at the product's launch.
According to Mr. Cook, initial orders were 'great' for the Apple Watch, which can be pre-ordered online and tried out in shops by appointment (however, you can't take them home from stores). Even in stores, customers just got a look at a demo model and not the real thing.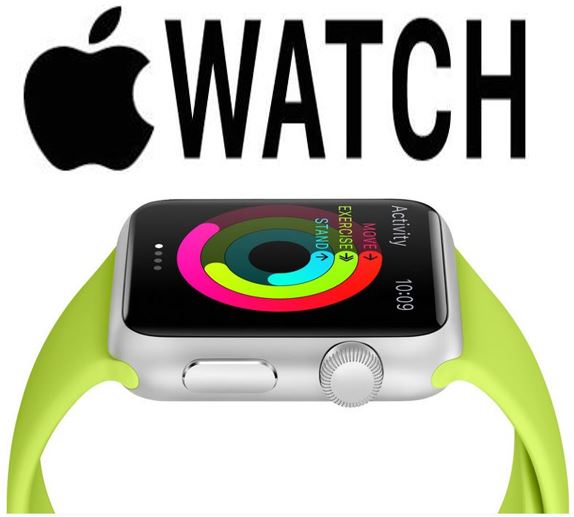 Apple says its smartwatch gives you a complete picture of your all-day activity. The three rings of the Activity app show your daily progress and help motivate you to sit less, move more and get some exercise. It's also an advanced sports watch, giving you real-time stats for a variety of the most popular workouts. (Image: Apple)
In an interview with CNBC, Mr. Cook said:
"We view this as an indication of solid demand paired with very limited supply. We continue to expect modest sales in the June quarter as demand ramps over time."
Will strong sales continue?
Investors are keenly monitoring demand, and are especially interested in whether sales will continue strongly after the initial wave of enthusiasm by loyal Apple fans.
Officially, the Apple Watch goes on the market on April 24th, online and in stores through appointment, including top fashion boutiques in Tokyo, London and Paris, as part of the company's marketing plan to position its new wearable computer as a must-have accessory.
However, moments after customers started pre-ordering online on Friday, the company wrote that deliveries would be met in June for some models of the Apple Watch, while others might take up to six weeks.
Source: Apple Inc.
Opportunists, wanting to make a few quick hundred dollars, soon placed confirmed orders for watches for auction on eBay.
Prices for the Apple Watch start at $349. In the US, the standard version is selling at $549. Prices soar to as high as $17,000 for versions with 18-karat gold alloys.
Reviews – the good, bad and ugly
Reuters quoted JMP analyst Alex Gauna who said long wait times will likely encourage more demand. "You would want to catch up by the holiday season. But based on what's out there in Android land, I don't think there's an extreme risk in near term of losing customers who must have a smartwatch and will go to some alternative," Gauna said.
While most critics acknowledged the Apple Watch is 'stylish' and 'beautiful', many criticized it for its comparatively short battery life and apps which load slowly.
The Washington Post quoted Christopher McNulty, a 21-year-old Georgetown University student, who tried out the demo watch and was apparently 'really impressed'. Mr. McNulty said "I feel like I'm on it all the time. If it's on my wrist, I can triage throughout the day."
Writing in Techradar, Lily Prasuethsut, who admits she is not a not an Apple fangirl, said:
"I'm not saying the Apple Watch is the perfect smartwatch that's right for everyone, but as it stands, it offers a much richer and fuller array of options that Android Wear sorely lacks … I've gone through enough Android Wear watches to feel like they're all pieces to a huge, incomplete smartwatch puzzle. So far, it seems like the Apple Watch can provide the whole picture."
Global Securities predicts sales of the Apple Watch should hit 40 million for 2015, compared to nearly 200 million iPhones sold in 2014.
French multinational banking and financial services company Société Générale believes the Apple Watch will dominate the global smartwatch market, probably representing about 55% of all shipments, vastly outperforming those sold by Fitbit, Sony and Samsung.
Video – Apple Watch