Flood-hit areas of Cumbria are to receive further support from the Army as the Met Office warns of possibly more heavy rains on Christmas Day. National severe weather warnings for rain have been issued for northern and northwestern parts of the UK for Christmas day and Boxing Day.
The Met Office added that it is still unsure whether the heaviest rainfall will be in the warning area. It predicts from 60 to 80 mm to fall quite widely "with a chance of up to 150 mm locally over high ground. Everyone should be prepared for potential further flooding and some disruption to transport."
Troops will help place sandbags in preparation. Flood defence gates have been closed in Keswick, Carlisle and Cockermouth.
Duke of Lancester's soldiers supporting flood defence efforts in Cumbria. (Image: twitter.com/LionsofEngland)
Christmas Day COBRA meeting
Government ministers are set to hold an emergency Cobra meeting on Christmas Day. COBRA (officially called COBR), stands for Cabinet Office Briefing Rooms. It is a type of crisis-response committee the UK Government sets up in times of national or regional crisis, or events overseas with major implications for Britain.
According to the Ministry of Defence, one company from the 2nd Battalion Duke of Lancaster's Regiment, based at Weeton Barracks near Blackpool, part of 42nd Infantry Brigade, was deployed early on Friday morning to help construct flood defences in Appleby.
---
---
Defence Secretary Michael Fallon said:
"Our Armed Forces are never off duty. This Christmas our brave servicemen and women are serving overseas and here at home to keep us safe, whether securing the skies, patrolling the seas, or leading in the fight against Daesh (ISIS)."
"I pay tribute to their determination, professionalism, and everything they have done this year."
Cumbria has had more rain so far this month than ever before (since records began in 1910).
The Environment Agency says it is doing everything it can to protect the area from the consequences of heavy rains. (Image: twitter.com/EnvAgency)
Pensioner saved from 2 heroes
According to The Cumberland News, two flood heroes rescued a pensioner trapped in his home by rising flood waters. They braved a terrifying torrent of water and rescued Jeff Thompson, 75, who has multiple sclerosis.
Mr. Thompson said Christmas Day would have been very different had the men not heard his wife Betty's desperate cries for help.
Ian Huntington (59), a plumber, and David Taylor (48), a Paris-based lawyer, probably saved his life, Mr. Thompson believes. Had it not been for them, he would have been overtaken by the rushing water.
Mr. Thompson told The Cumberland News:
"I honestly thought that was it for me," he told The Cumberland News. "I've had MS for more than 40 years and I know that if I go down I can't get up again without somebody helping me."
"The water was overwhelming me. I'd begun to resign myself to it. I've never seen anything so scary in my life."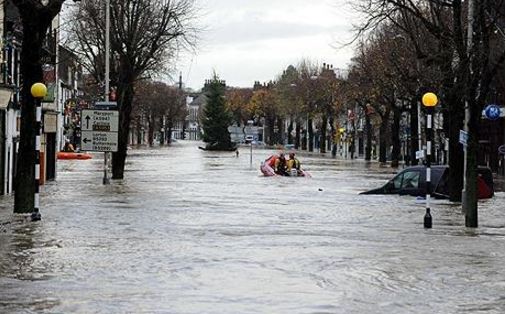 Cumbria has suffered the worst flooding in living memory.
Mrs. Thompson added:
"Jeff was just trying to hold on to the grandfather clock with the water swirling around him. If David hadn't been able to pick him up he would have drowned. Jeff keeps saying that he is so lucky to be alive. We both know that without David and Ian, Jeff would have drowned that night."
New scheme to protect Cumbria homes from flooding
A new funding scheme to help protect homes in Cumbria from flooding is set to be launched in the New Year.
Currently, there are six different funding schemes in place to help households and businesses across the country that have been affected by flooding. The seventh household flood protection scheme will be launched on January 4th.
According to the News & Star, a local newspaper, the new grant scheme will fund measures to make properties more resistant or resilient to flooding – more so than the repairs that are normally covered by insurance.
You should submit your grant application form and get it approved before committing any money, the newspaper informs. There is a risk that grants paid out will not cover the full costs of repairs if applications are made retrospectively.
You should contact your local district council in the New Year for more information on the new flood resilience scheme, which will include:
– £500 for every flooded household.
– Grants of up to £5,000 for flood resilience.
– Council Tax relief for affected properties.
– Business Rates relief for affected businesses.
– Grants of up to £10,000 for affected businesses.
– Funding for households through the Cumbria Community Foundation.
The Environment Agency wrote on its website:
"In addition to Cumbria's existing flood defences, the Environment Agency has transported over 2 kilometres of temporary flood barriers and more than 20 extra pumps to the north of England. 4 of these are high volume pumps capable of moving 1,000 litres of water per second (one metric tonne, or 219 gallons of water per second)."
"The Environment Agency is also checking and maintaining flood defences, clearing blockages in watercourses and monitoring water levels. It will issue flood warnings where necessary."
Video – Prince of Wales visits Cumbria residents
Earlier this month, Prince Charles made an undisclosed private donation to the Cumbria Community Foundation to help affected households. His Prince's Countryside Fund also released £40,000 from its emergency fund and launched a public appeal, which has raised a further £20,000.