British astronaut, Major Tim Peake, made the first prank call from space when he telephoned a startled woman by mistake from the International Space Station and said "Is this planet Earth?"
He later apologised to the confused lady, whose phone rang after he accidentally misdialed.
On Christmas Eve, Major Peake tweeted:
"I'd like to apologise to the lady I just called saying 'Hello, is this planet Earth?" – not a prank call…just a wrong number!"
This is not the first time his phone calls from the International Space Station have not gone the way he wanted. According to TV channel ITV, when he called his parents to wish them a Merry Christmas they weren't in, and he had to leave a message.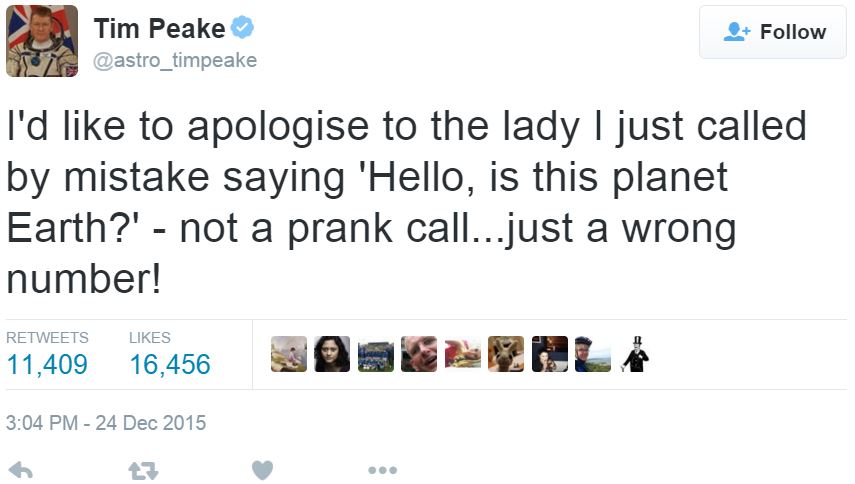 The lady must have been the first recipient of a wrong number from space. (Image: twitter.com/astro_timpeake)
Tim Peake, a former army major of the regular British Army Air Corps, who is also a helicopter pilot and flying instructor, is the first British International Space Station crew member. He is employed by the European Space Agency.
Major Peake will be first space London marathon runner
He will run the London Marathon in space on board the ISS in April 2016 while orbiting Earth. He will be strapped to a treadmill and will follow the 26.2-mile London event on a large monitor.
Major Peake, who also enjoys cross-country, climbing, caving, and triathlon, said:
"The London Marathon is a worldwide event. Let's take it out of this world. The thing I'm most looking forward to is that I can still interact with everybody down on Earth."
"One of the biggest challenges I'll be facing is the harness system. In microgravity I would float if I didn't strap myself down to the treadmill so I have to wear a harness system that's a bit similar to a rucksack."
ISS flew over UK on Christmas Eve
The International Space Station (ISS) flew over Britain on Christmas Eve. It was visible in the evening sky, rising in the west at 4.42 p.m., and setting in the south at 4.50 p.m.
The ISS is the biggest human-made object ever created for outer space. It weighs 45 tonnes and measures an incredible 356 feet (109 metres), which is marginally larger than a football field.
In this tweet, Major Peake has made clear which football team he supports (Image: twitter.com/astro_timpeake)
ISS has been occupied non-stop since November 2000. Over the past 15 years, more than two-hundred astronauts from fifteen different countries have stayed there.
Each crew member spends an average of 35 hours per week conducting experiments and research on several different disciplines to advance scientific knowledge in Earth, space, physical and biological sciences.
Video – Tim Peake and colleagues wishing Merry Xmas
In this video, Tim Peake (UK), and colleagues Tim Kopra (USA) and Scott Kelly (USA) wish us all a Merry Christmas and do a space somersault.