Arnold Schwarzenegger advises we adopt a vegetarian lifestyle for a couple of days per week in order to save the planet, i.e. combat climate change. The former body-builder, California Governor and Hollywood star says that livestock farming currently creates about 28% of global greenhouse gases.
Mr. Schwarzenegger talked about the livestock farming problem in a packed hall of students at Sciences Po (Institute of Political Sciences), in Paris.
In an interview with the BBC, Mr. Schwarzenegger said asking people to become full-time vegetarians would be impractical, because most of us would find it too demanding.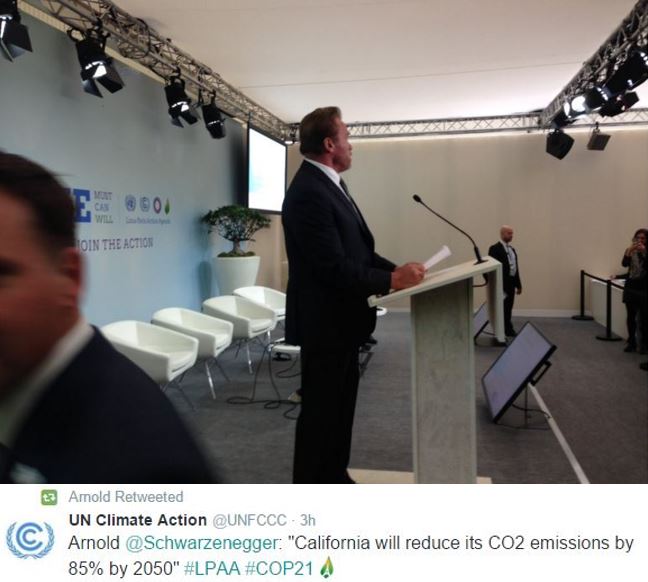 Mr. Schwarzenegger believes climate change should be a non-partisan issue. (Image: twitter.com/Schwarzenegger)
However, there would more likely be a much larger following if people were asked to give up animal-sourced proteins once or twice per week, he believes.
Many men may wonder how achieving and maintaining a Mr. Universe or Terminator type body without consuming meat is possible. Mr. Schwarzenegger pointed out that several extremely successful body-builders today are vegetarian.
---
---
He told BBC News:
"You can get your protein many different ways. I have seen many body-builders and (weight) lifters that are vegetarians. My friend recommends stop eating meat. I think that's a good idea but people won't buy in."
"People will buy in to stop eating meat one or two days a week – you have to start slowly. It's a very big challenge but it doesn't mean it shouldn't be done."
Greenhouse gas emissions from livestock farming
Most climate change negotiations and debates concentrate on carbon emissions from vehicles, industry and the generation of power. However, emissions linked to the human consumption of meat are increasingly causing serious concern.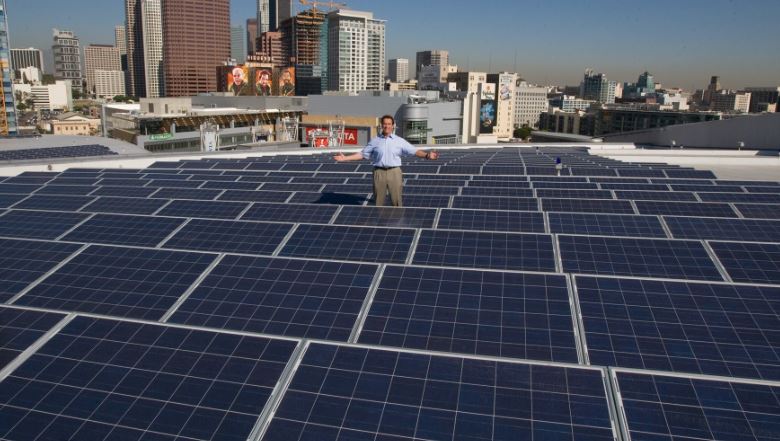 We have to keep pushing for more power generation from renewables, says Mr. Schwarzenegger. (Image: www.facebook.com)
To produce 1 kg of protein from meat is estimated to use up the resources required to produce from 3 to 10 kg of vegetable protein.
Over the past half-century, greenhouse gas emissions from fisheries, forestry and farming have almost doubled, and are likely to grow by a further 30% by the middle of this century, the United Nations has warned.
Most of the greenhouse gas emissions from livestock farming comes from animals belching, nitrogen fertilisers, and gas (to a lesser extent) coming out of the animals' rear end.
When Mr. Schwarzenegger was the 38th Governor of California (2003-2011), he took on the oil & gas multinationals to reduce carbon emissions through renewables. He said he was glad to see that Democrat Jerry Brown, his successor, has continued pushing for greater use of renewables, and hopes the next governor will continue on that route.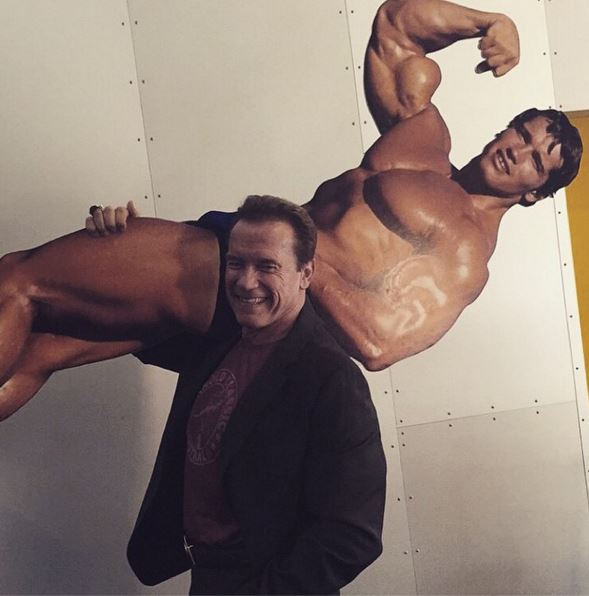 Many successful bodybuilders and weight lifters today do not eat meat, says Arnold. (Image: www.facebook.com)
It is a futile mission to try to persuade people to give up the things they love, like driving big cars or flying in jets, Mr. Schwarzenegger explained. We need technology that allows us to live the way we want, but without polluting our planet.
Climate change should be a non-partisan issue
America's current Republican Presidential hopefuls said they would scrap President Obama's climate laws if they are elected. Mr. Schwarzenegger, when asked about this, said he would make climate change a non-partisan issue if he were in Washington.
Video – Arnold Schwarzenegger talking about climate change
Hollywood star and former California governor Arnold Schwarzenegger told delegates at the COP21 climate conference on 7 December to ignore the naysayers who say a global deal is out of reach.