AstraZeneca rejects another Pfizer offer, possibly putting an end to the world's largest drugmaker's quest to takeover Britain's second largest pharmaceutical company. The new £55 per share bid valued the UK firm at £69 million ($116 billion), a 15% increase on its May 2nd offer.
Pfizer announced that the new offer cannot be increased any further, and added that it will not bypass the AZ board and approach shareholders directly, i.e. it will not attempt a hostile takeover. If this is really true, then the battle appears to be over.
The new bid included £24.76 in cash and 1.747 shares in the new company, worth £55 for each share held.
New offer "inadequate"
Leif Johansson, Chairman of AstraZeneca said:
"The Final Proposal is a minor improvement which continues to fall short of the Board's view of value and has been rejected. Pfizer's approach throughout its pursuit of AstraZeneca appears to have been fundamentally driven by the corporate financial benefits to its shareholders of cost savings and tax minimization."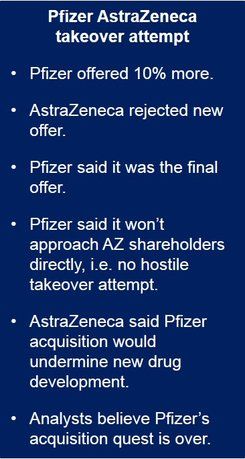 "From our first meeting in January to our latest discussion yesterday, and in the numerous phone calls in between, Pfizer has failed to make a compelling strategic, business or value case. The Board is firm in its conviction as to the appropriate terms to recommend to shareholders."
"We have rejected Pfizer's Final Proposal because it is inadequate and would present significant risks for shareholders, while also having serious consequences for the Company, our employees and the life-sciences sector in the UK, Sweden and the US."
Pfizer motivated by lower UK taxes
If the deal had gone through, Pfizer, the world's largest drugmaker, would have acquired AstraZeneca, the seventh largest, and created a pharmaceutical super-giant. The new company would have been based in London for tax purposes but would in effect be headquartered in New York.
Corporate tax in the UK is 21% compared to 35% in the US. Moving its head office to the UK would have saved Pfizer billions of dollars in tax each year.
Concern regarding science jobs
UK and Swedish lawmakers, as well as unions and scientific associations expressed deep concern regarding Pfizer's intentions.
Historically, the American company has a reputation of buying smaller pharmaceutical firms and considerably reducing their research and development activities.
When interviewed by the parliamentary Business, Innovation and Skills Committee, Ian Read, Pfizer's CEO said a merger would probably result in the reduction of R&D jobs.
AstraZeneca's CEO, Pascal Soriot, said before the Committee that a Pfizer acquisition could undermine its development of breakthrough cancer medications.
Pfizer UK pledge triggered questions in the US
Pfizer wrote directly to UK Prime Minister David Cameron making a list of pledges, which included not reducing R&D expenditure and maintaining UK job levels. US lawmakers then asked whether those assurances meant the loss of jobs in the United States.
Regarding the new proposal, Ian Read , said:
"We have tried repeatedly to engage in a constructive process with AstraZeneca to explore a combination of our two companies. Following a conversation with AstraZeneca earlier today, we do not believe that the AstraZeneca board is currently prepared to recommend a deal at a reasonable price. We remain ready to engage in a meaningful dialogue but time for constructive engagement is running out."
"We have said from the beginning that we will remain disciplined in the price we are willing to pay and we will not depart from that guiding principle. We believe that our proposal represents compelling and full value for AstraZeneca and that other issues that have been raised by AstraZeneca do not represent material difficulties."
Could the deal have been vetoed?
The UK government is authorized to veto certain deals, such as those of media and defense companies; it can also apply a "public interest test". For a Conservative administration to do so in this case would have been highly unlikely.
Even if the government had tried to intervene, European Union laws would have significantly limited its actions.