Sir David Attenborough opened Woodberry Wetlands – a nature reserve in London – just days before he turns 90. The world-famous naturalist and TV presenter said he feels unbelievably lucky to reach such an age while still being able to walk unaided, something many of his friends, relatives, former TV presenters and other people his age cannot do.
When asked about how he felt during the opening of London Wildlife Trust's new flagship nature reserve, Sir David said:
"The truthful answer is that I feel unbelievably lucky. I have friends, contemporaries, relatives, people who are my age, who can't walk about. I am unbelievably fortunate."
Sir David Attenborough, born in Isleworth, London, on 8th May 1926, at Woodberry Wetlands on Saturday, just eight days before his 90th birthday. (Image: twitter.com/Walthamsteve)
A stunning wildlife oasis
According to London Wildlife Trust, the opening sets a new bar for twenty-first century nature conservation, providing an inspirational showcase for value of nature for urban-dwellers living in the heart of high-rise London.
Woodberry Wetlands, a spectacular wildlife oasis in Stoke Newington, north-east London, spans 11 hectares (27 acres), which is the equivalent of thirteen football pitches.
---
---
The reserve has a large reservoir which was built in 1833, but has been closed to the general public ever since. It is surrounded by Woodberry Down's dense mix of Victorian terraced houses, social housing estates and new development.
London Wildlife Trust says Woodberry Wetlands is already attracting a new breed of young, metropolitan, conservation volunteer.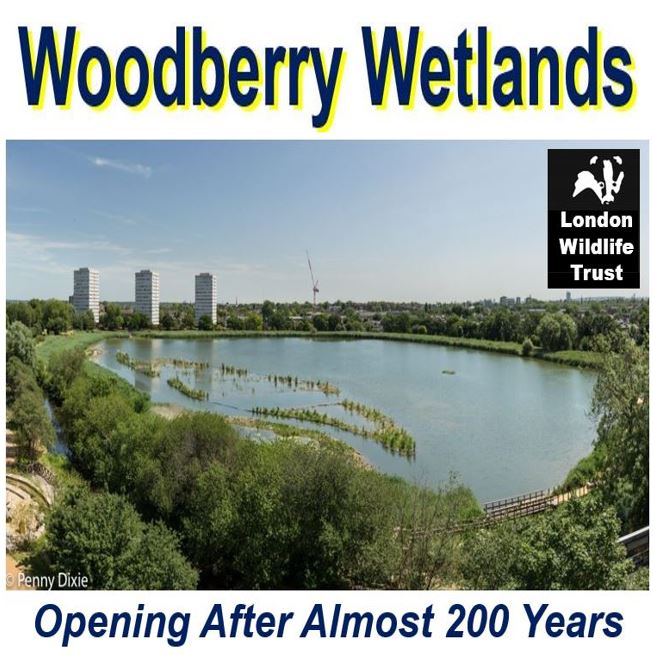 According to woodberrywetlands.org.uk: "Woodberry Wetlands is home to lots of wonderful wildlife. Kingfishers dart across water, whilst reed warblers, bees and dragonflies buzz around the reeds. You'll be amazed you are in London." (Image: woodberrywetlands.org.uk)
A toxic reservoir for 25 years
For a period of twenty-five years – from 1955 to 1980 – sodium phosphate gas and chlorine were pumped into the reservoir to disinfect the water, which prevented virtually all wildlife from living there.
As soon as this practice stopped, flora and fauna started to thrive, attracting rarely-seen species into London.
---
---
In 2010, London Wildlife Trust started planning for a new public nature reserve with support from both the private and public sectors.
The Trust has now created more than 13,000m2 of reedbed and planted 550m2 of fruit trees, hedgerow, and wildflower meadows to attract butterflies, birds, bees and other insects.
Now, this cutting-edge wetland with its tower-block backdrop, less than 25 minutes from Leicester Square in the centre of the city, can become an attraction for London's human life too.
The reservoir is still an important part of London's water supply – it is fed by the New River, a 17th century feat of aqueduct engineering, designed by Sir Hugh Myddleton. (Image: woodberrywetlands.org.uk)
Woodberry Wetlands – background
The reservoir was built in the 19th century, originally as a storage for drinking water. It became recognised for its value to flora and fauna and in 1987 was designated a Site of Metropolitan Importance for Nature Conservation.
London Wildlife Trust started a community garden in a closed corner in 2007. In 2010, it started to convert the reservoir into a nature reserve with partners, including landowner Thames Water.
Central to the whole project is the conservation of both the built and natural heritage. The aim is to bring people closer to nature, as well as fulfilling a vision for a greener London.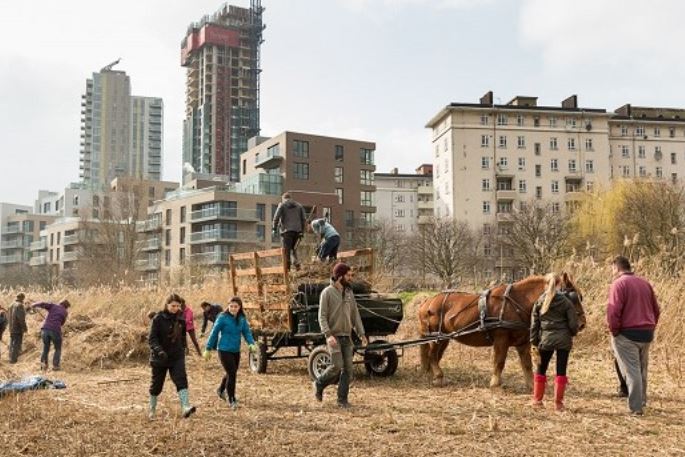 Conservation & Warden Volunteers. Woodberry Wetlands says on its 'volunteer page': "Whether you're a nature novice or an ecology expert, everyone is welcome to lend a hand at Woodberry Wetlands as there is always plenty of practical work to do all year round!" (Image: woodberrywetlands.org.uk)
There were some important historic buildings that were in urgent need of repair at Woodberry Wetlands. Placed on Historic England's Heritage at Risk Register is the Grade II listed Coal House, which was once a coal store and kitchen.
The Coal House has been completely restored, and will open for the general public to enjoy as a visitor centre and café. The Sluice House, a smaller Grade II building, also stands on the site.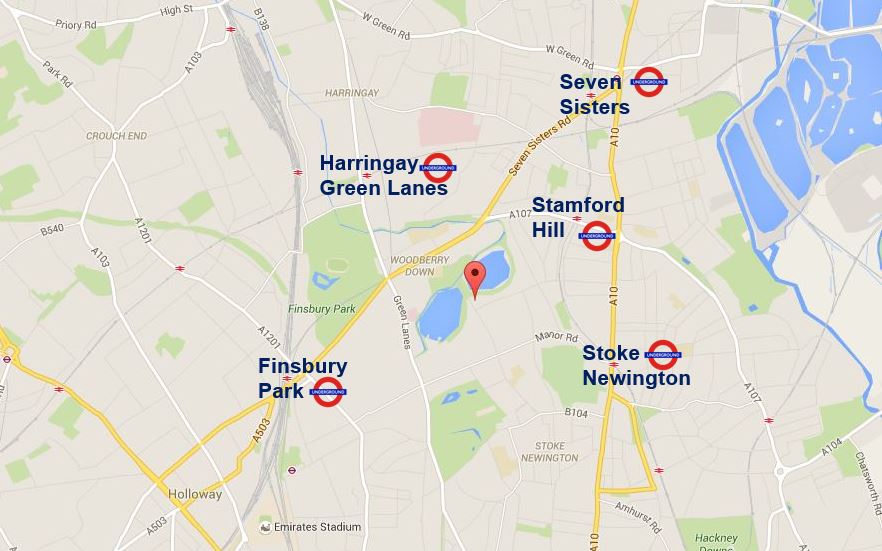 Woodberry Wetlands Address:  West Entrance New River Path via Lordship Road London N16 5HQ. Opening Hours: free daily entry 8am to 5pm. No dogs are allowed except for assistance dogs for blind and partially sighted people. Coal House Café: 8am to 4pm, enter via main entrance boardwalk. (Image: Google Maps)
Stephanie Hilborne OBE, The Wildlife Trusts' chief executive, said:
"The Wildlife Trusts care for over 2,000 wild havens around the UK – refuges for wildlife until our wider countryside and cities become more hospitable to the animals and plants with which we share the world."
"These are natural places that people can enjoy day after day – and in urban areas they are particularly valuable as wild oases where people can switch off, be soothed by the rustle of wind blowing through reeds or be thrilled by the sight of a kingfisher."
"Woodberry Wetlands is the inspirational outcome of years of dedicated effort and a great partnership with Thames Water."
Sir David said while walking within the reserve yesterday:
"I've just driven across London and of course scarcely seen a blade of grass, and seen a lot of motorcars and a great deal of fumes … and you come here and see this, in one of the most heavily built-up parts of North London."
"So, it's wonderful to find this great breath of fresh air and a vision of the natural world."
Video – Sir David Attenborough opens Woodberry Wetlands
This Press Association video shows Sir David opening London Wildlife Trust's new flagship nature and conservation reserve – Woodberry Wetlands – in Stoke Newington, north-east London.