Baker Hughes is an American oilfield services company that provides solutions for oil and gas operators to make the most of their reservoirs.
It is based in Houston, Texas.
The company focuses on lowering costs, reducing risk and improving productivity for the oil and gas industry via high-performance drilling, evaluation, completions and production technology and services, integrated operations and reservoir consulting.
It is a leader in tricone and PDC drill bit, ream-while-drilling and casing drilling technology and evaluating geologic formations to place wells in the most productive zones within a reservoir.
Baker Hughes was founded in 1987 following a merger between Baker International and Hughes Tool Company.
The company has 62,000 employees in 80 countries and nine regional and 19 geomarket management teams. Its main regions are: U.S. Land, Gulf of Mexico, Canada, Latin America, Europe, Africa, Russia and Caspian, Middle East and Asia Pacific.
Its oilfield products and services fall into one of two categories, Drilling and Evaluation or Completion and Production:
Drilling and Evaluation: Drill Bits (includes Tricone™, PDC or "diamond", and Kymera™ hybrid drill bits), Drilling Services, Wireline Services, and Drilling and Completion Fluids.
Completion and Production: Completion Systems, Wellbore Intervention, Intelligent Production Systems, Artificial Lift (electric submersible pump systems), Upstream Chemicals, Pressure Pumping (cementing, stimulation, including hydraulic fracturing, and coil tubing services).
The company offers other services via its Integrated Operations group, which includes: project management, well site supervision, well construction, intervention, third party contractor management, procurement and rig management.
Baker Hughes is publicly listed on the New York Stock Exchange (NYSE) under the stock ticker symbol 'BHI'.
Overview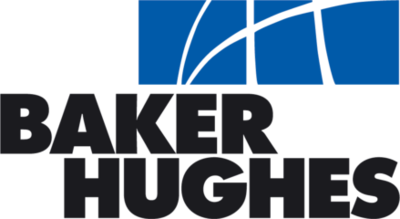 Chairman and CEO: Martin S. Craighead
Industry: Oil/Gas
Type: Public
Listed on the New York Stock Exchange (NYSE)
NYSE stock symbol: BHI
S&P 500 Component
Founded: 1987
Revenue: $24.551 billion USD (2014)
Net income: $1,731 million USD (2014)
Diluted earnings per share: $3.92 USD (2014)
Employees: 62,000 (2014)
Company head office: 2929 Allen Parkway, Suite 2100, Houston, Texas 77019-2118, USA
Website: http://www.bakerhughes.com/
Company contact number: +1.713.439.8600
Investor relations contact number: +1.713.439.8039
---
Baker Hughes Financial Results
Operating data (in $ millions)

2014

2013

Sales revenue
$8,056
$7,594
Services revenue
$16,495
$14,770
– Total revenue
$24,551
$22,364
Cost of sales
$6,294
$5,932
Cost of services
$13,452
$12,621
Research and engineering
$613
$556
Marketing, general and administrative
$1,271
$1,306
– Total costs and expenses
$21,692
$20,415
Operating income
$2,859
$1,949
Income before income taxes
$2,627
$1,715
Income taxes
$(896)
$(612)
Net income
$1,731
$1,103
Net income attributable to noncontrolling interests
$(12)
$(7)
Net income attributable to Baker Hughes
$1,719
$1,096
Common share data (in $)
Basic earnings (loss) per share
$3.93
$2.47
Diluted earnings (loss) per share
$3.92
$2.47
Balance sheet data (in $ millions)
Total assets
$28,827
$27,934
Long term debt
$3,913
$3,882
Total equity
$18,730
$17,912
Cash flow data (in $ millions)
Net cash flows provided by operating activities
$2,953
$3,161
Net cash flows used in investing activities
$(1,659)
$(1,663)
Net cash flows (used in) provided by financing activities
$(939)
$(1,103)
Cash and cash equivalents at beginning of year
$1,399
$1,015
Cash and cash equivalents at end of year
$1,740
$1,399
Source: "Baker Hughes Form 10-K 2014"
---