Ball Corporation is a multinational provider of metal packaging for foods, drinks and household products, in addition to being active in areas such as avionics and space systems.
The company is headquartered in Broomfield, Colorado, USA and it is publicly traded on the New York Stock Exchange (NYSE) under the stock ticker symbol BLL.
It is well known for producing glass canning jars and for being one of the largest producers of recyclable beverage cans in the world.
Its largest product lines are aluminum and steel beverage containers.
The company's packaging products are primarily sold to major beverage, food, personal care and household products companies, such as: Anheuser-Busch InBev n.v./s.a., Heineken N.V., MillerCoors LLC, PepsiCo Inc. and its affiliated bottlers, SABMiller plc, The Coca-Cola Company and its affiliated bottlers, and Unilever N.V.
Its aerospace business is a leader in the design, development and manufacture of innovative aerospace systems, including: spacecraft, instruments and sensors, radio frequency systems and components, data exploitation solutions and a variety of advanced aerospace technologies.
Ball Corporation was founded in 1880 and incorporated in the state of Indiana, United States of America (U.S.), in 1922.
Overview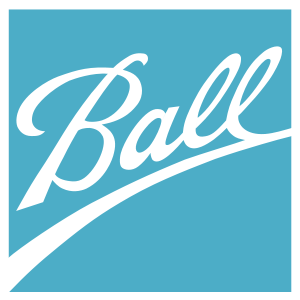 President, Chairman and CEO: John A. Hayes
Industry: Packaging and Aerospace
Type: Public
Listed on the New York Stock Exchange (NYSE)
NYSE stock symbol: BLL
S&P 500 Component
Founded: 1880
Net sales: $8.570 billion USD (2014)
Net earnings: $498 million USD (2014)
Diluted earnings per share: $3.30 USD (2014)
Employees: 8,000 (2014)
Company head office: 10 Longs Peak Drive, P.O. Box 5000, Broomfield , Colorado 80021, USA
Website: https://www.ball.com
Investor relations contact number: (303) 460-3537
Investor relations email: 

[email protected]
---
Ball Corporation Financial Results, Years Ended December 31
Operating data (in $ millions)

2014

2013

Net sales
$8,570.0
$8,468.1
Costs and expenses
$(7,731.4)
$(7,672.7)
Earnings before interest and taxes
$838.6
$795.4
Earnings before taxes
$645.6
$583.6
Net earnings
$498.0
$435.0
Net earnings attributable to noncontrolling interests
$(28.0)
$(28.2)
Net earnings attributable to Ball Corporation
$470.0
$406.8
Common share data (in $)
Basic earnings (loss) per share
$3.39
$2.79
Diluted earnings (loss) per share
$3.30
$2.73
Balance sheet data (in $ millions)
Total assets
$7,571.0
$7,820.4
Total liabilities
$6,331.4
$6,404.4
Total shareholders' equity
$1,239.6
$1,416.0
Cash flow data (in $ millions)
Cash provided by (used in) operating activities
$1,012.5
$839.0
Cash provided by (used in) investing activities
$(391.4)
$(379.1)
Cash provided by (used in) financing activities
$(845.3)
$(204.0)
Cash and cash equivalents at beginning of year
$416.0
$174.1
Cash and cash equivalents at end of year
$191.4
$416.0
Source: "Ball Corporation Form 10-K 2014"
---