Bank of America has agreed to pay mortgage lenders Fannie Mae and Freddie Mac $9.5 billion in the form of a $6.3 billion cash payment and a $3.2 billion mortgage securities buy-back. The bank had been charged with misleading the two mortgage lenders.
Bank of America and Merril Lynch had faced four lawsuits which had been filed by the Federal Housing Finance Authority (FHFA) as conservator of Fannie Mae and Freddie Mac in 2011. In 2009, in the midst of the global financial crisis, Bank of America acquired Merrill Lynch.
The lawsuits alleged that the bank had falsely represented that the underlying mortgage loans adhered to certain standards. The settlement covers about $57.5 billion (in purchase cost) of private-label RMBS (residential mortgage-backed security) bought by Freddie Mac and Fannie Mae.
Settlement frees Bank of America of further fraud claims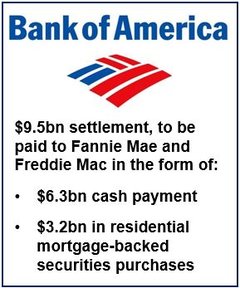 In the settlement FHFA will dismiss the pending lawsuits, i.e. Bank of America and its affiliates will be "released from all securities law and fraud claims, as well as certain other claims related to the private-label RMBS dispute."
On its website, Bank of America wrote:
"The FHFA settlement resolves one of the most significant remaining pieces of RMBS securities litigation facing the company. With this settlement, Bank of America has now resolved approximately 88 percent of the unpaid principal balance of all RMBS as to which RMBS securities litigation has been filed or threatened for all Bank of America-related entities."
FHFA Director Melvin L. Watt, said:
"FHFA has acted under its statutory mandate to recover losses incurred by the companies and American taxpayers and has concluded that this resolution represents a reasonable and prudent settlement of these cases."
"This settlement also represents an important step in helping restore stability to our broader mortgage market and moving to bring back the role of private firms in providing mortgage credit. Many potential homeowners will benefit from increasing certainty in the marketplace and that is very much the direction we should be taking."
Further investigations pending
The Charlotte-based bank added that it is still subject to other investigations and inquiries and may face further fines and settlements by:
The US Justice Department.
The State Attorneys General.
Other members of the RMBS Working Group of the Financial Fraud Enforcement Task Force, referred to collectively as the 'Government Authorities'.
Other civil litigation proceedings brought by the Department of Justice and other Government Authorities.
Bank of America, the second biggest lender in the US by assets, says it cooperating fully and has had preliminary discussions regarding potential settlements with some Government Authorities.
The bank also announced that it has entered into an agreement with the New York Attorney General to resolve a 2010 lawsuit that includes some former executives, alleging "a failure to disclose losses at Merrill Lynch prior to the company's acquisition." Bank of America has agreed a settlement of $15 billion.
Settlements will dent profits
Bank of America warned that its Q1 2014 profits could take a substantial hit from the settlement, which will probably reduce its first-quarter income by approximately 21 cents a share ($3.7 billion before taxes).
The FHFA has recovered over $10 billion from banks so far in similar claims over mortgage securities. Seven other banks in the US are still in the process of resolving comparable lawsuits.
The FHFA had originally sought unspecified damages on approximately $200 billion of mortgage-backed securities in 2011. It signed a $4 billion settlement with J.P. Morgan in October, 2013, and $885 million with UBS AG in July, 2013.
Written by [google_authorship]