With the number of bank branch closures reaching 470 last year, more than double the number in 2013, UK Business Secretary has summoned the bosses of the "big five" for fresh talks after they refused to commit to protecting hundreds of rural branches.
The "big five" refers to Barclays, HSBC, Lloyds Banking Group, Santander and Royal Bank of Scotland. Mr. Cable is urging them to reinstate their commitment.
As part of a cost-cutting drive, banks have accelerated their branch-closing programme.
With more customers dealing with their banking affairs online, banks say a large number of physical branches are standing around with too much spare capacity.
Campaigners argue that too many branches are closing down, leaving customers in rural areas, as well as elderly individuals and small businesses stranded. They say that since 1989 over half of Britain's bank branches have shut.
Huge spike in bank branch closure numbers
The number of bank branch closures shot up from 195 in 2013 to 470 in 2014.
State-owned Royal Bank of Scotland (RBS), which also owns NatWest, shuttered 152 branches, Santander 92, Barclays 72, HSBC 65 and Co-op Bank 8.
Lloyds Banking Group said it planned to close down about 200 branches over the next three years and open 50, i.e. a net closure of 150.
A total of 121 additional towns in 2014 ended up with no branch of any bank, meaning customers had to travel to the next town.
Bank bosses say customers are moving rapidly from doing their business at physical branches to using the Internet. The number of people using mobile banking apps has soared, they say.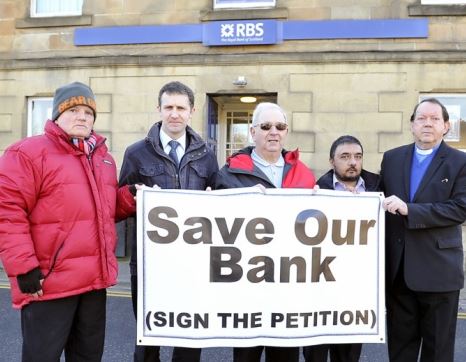 There is alarm across the UK, especially in smaller towns and rural communities, at the pace of bank branch closures. (Photo: Falkirk Herald)
Our work and shopping habits have changed
Bankers add that customers' work and shopping habits have changed, a trend that has left a large number of branches virtually idle.
While initially committing to making sure every town had at least one branch of some kind of bank, the big five have all refused to renew that promise.
Banks are said to be liaising with the Post Office, which has a network of 11,500 branches across the country, to form some kind of community banking partnership. Campaigners argue that the Post Office alone will not be able to make up for the loss.
What about rural and remote communities?
In an interview with Sky News, Mr Cable said:
"There are a lot of people who are not connected who also need to do basic banking functions, and we mustn't be in a position where large numbers of villages and other small communities are effectively being cut off from banking. If the banks cannot perform that service we need an adequate substitute, and they've got a responsibility to help provide it."
After a meeting between Mr. Cable and the "big five" in December, Barclays' CEO Antony Jenkins said "(the bank) aimed to leave no community without the ability to transact – meaning that, if we do choose to close a branch, we work closely with the local community to determine if there are other ways to support its day-to-day banking needs."
Bank branch closures bad for customers
The Campaign for Community Banking Services (CCBS), a coalition of twenty national groups sharing concerns about bank branch closures, wrote in a report last year:
"The outlook is not good for those bank customers, particularly small businesses, for whom branch proximity is important and needed on a regular basis, at least weekly and, for some, daily. Damage to local retail provision is expected to increase as spend is diverted to larger town centres which still retain banks."
According to the CCBS, the economic costs and inconvenience to small businesses, disabled individuals, the elderly, and others having to use alternative banking facilities/locations are enormous when a town's last bank branch is closed down.
When low-income consumers are excluded from mainstream financial services the social costs are greater than many people realize.
Commercial decline of communities
The CCBS claims:
"Bank branch closures contribute to commercial decline of communities as better off consumers change their purchasing habits along with the need to travel further afield for banking services, businesses close, re-generation is rendered more unlikely and start-up finance for local business becomes more difficult to obtain."
Bank closures are also bad for the environment, especially when people have to drive to the next town, thus increasing motor vehicle usage, CBBS adds.