Barclays first quarter profits fell 5% to £1.69 billion after a 28% decline in investment bank income. The UK's third largest bank had warned that its Q1 2014 profits would be lower than in Q1 2013.
Barclays' division at the investment bank which trades commodities, bonds and currencies saw revenues tumble by 41% to £1.23bn. Income at the investment bank for Q1 2014 was £2.49 billion.
Pre-tax profit at the investment bank fell by 49% to £668 million because of "difficult trading conditions." The investment bank's return on equity dropped from 10.7% a year ago to 4.7%.
Investment banking clampdown
Like several other banks, historically investment banking has been the source of much of Barclays' profits. However, a regulatory clampdown has significantly raised the cost of doing business.
Even so, other banks are on average reporting declines of approximately 20% in fixed incomes, much less than Barclays' 41%.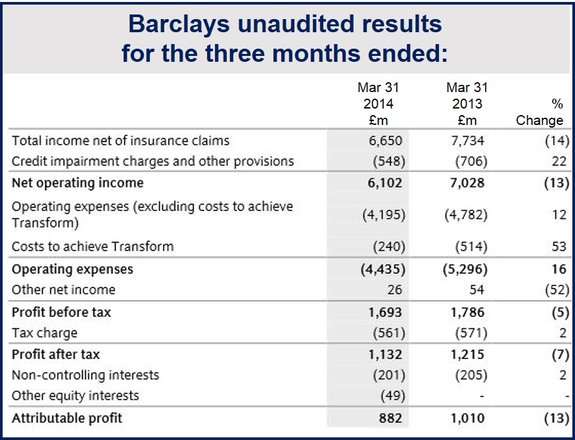 (Source: Barclays)
Earlier this year Barclays' shareholders were angry that large bonus increases were awarded for investment bankers despite falling profits and layoffs in 2013.
Barclays said it had to increase bonuses to prevent mass departures at its investment bank.
Skip McGee, the most senior banker left from Lehman since the takeover, quit Barclays last week. According to The Guardian, its head of mergers and acquisitions Paul Parker has also departed.
Retail banking did well
Barclays blamed the fall on its reorganization, "subdued client activity", and a relatively strong Q1 2013. It described its retail banking division's performance as "resilient".
Of Barclays seven major businesses, only the Barclaycard credit card business and retail and business banking posted Q1 2014 gains of 3% and 7% respectively.
On a positive note, the bank's ratio of equity to risk-weighted assets increased from 9.2% to 9.6%.
In a conference call today, Barclays Finance Director Tushar Morzaria said "We are obviously going though a number of changes as part of our strategic review and that may or may not have prompted some people to move on."
Barclays Chief Executive Antony Jenkins said his new plan for the bank on May 8th "will address issues underlying the performance challenges we have recently experienced, including positioning the investment bank for the new operating and regulatory environment."