According to the OECD's Better Life Index, the Danes want to be happy, Australians strive for work-life balance, while the Japanese are most concerned about safety.
More than 3.6 million people from 184 nations around the world have used the Better Life Index, a well-being barometer used to gauge and compare their quality of life based on how they prioritize a range of categories.
Typically, individuals have used the Index to compare nations according to the importance they place on 11 categories ranging from the environment to income.
The new 2014 Better Life Index reveals what over 60,000 people worldwide believe are the most important factors for quality of life.
The Index is viewable via an interactive map and allows policymakers to clearly see what really matters to people.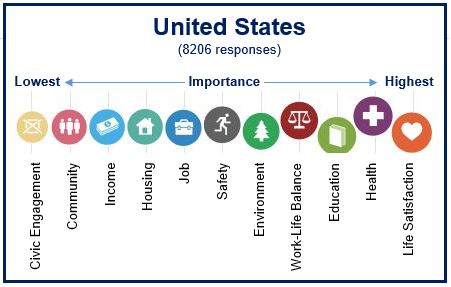 For Americans, "Life Satisfaction" is much more important than income.
Money is less important than other factors
OECD Secretary-General Angel Gurría, said:
"People want to be heard. They want to understand how their country compares to others and to know that we are listening. This year's Better Life Index has evolved to reveal what's most important to users. This represents an important potential new source of information for policymakers."
According to the map, the top category for users in Germany and the United Kingdom is life satisfaction, while the French placed health on top. In all three countries, people placed income much lower than other factors as a driver of wellbeing.
The Better Life Index is available in English, Russian, Spanish, French and German. In June 2014 there will be a Brazilian Portuguese version.
For over a decade, the OECD has been focusing not only at people's well-being in relation to the functioning of the economic system, but also at the diverse experiences and living conditions of people and households.
The Better Life Index is part of the larger OECD Better Life Initiative that aims to measure well-being and progress.
The Better Life Index invites people to compare lives across 36 nations based on 11 categories:
work-life balance
safety
life satisfaction
health
governance
environment
education
community
jobs
income
housing
and to give their own weight to each of the categories.
More information about what matters to Better Life Index users in your country compared to other nations is available here.