Baron Capital Inc., based in New York city, has bought a quarter of all available Manchester United plc shares in the New York Stock Exchange. The investment company is now owner of 24% of all shares of the UK football (soccer) club that were listed by the Glazer family two years ago.
However, as only 10% of Manchester United was floated, it represents a tiny proportion of the club. The Glazer family still has the majority of boardroom votes and 90% of the company.
According to Baron Capital, they now own 2.5% of the club, which has a market value of $2.6 billion.
A poor season
A disappointing season has pushed Manchester United shares downward. However, on Monday after the Baron Capital move shares closed at their highest level since November 2013 – $15.84.
According to the Securities and Exchange Commission, Baron Capital currently has 9,581,636 shares, which at $15.84 per share are worth $151 million.
Massive kit deal expected
According to Baron Capital, it has been keenly awaiting a Manchester United – Nike kit deal. Nike is currently the club's kit supplier.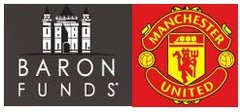 There are rumors that the Premier League club has been discussing potential deals with other companies, including Uniglo, a Japanese casual wear designer, manufacturer and retailer.
According to an article in the Sunday Mirror, Nike is on the verge of signing a 10-year $1 billion deal with the Red Devils (Manchester United's nickname).
On its website, Baron Capital wrote:
"Manchester United plc is an English Premier League professional sports team that generates revenue from broadcasting, sponsorship, and licensing. Shares of Manchester United dropped in Q4 due to a delay in the signing of a new global merchandise deal with Nike and the team's poor performance on the field. The Nike deal is still expected to be signed, but has been pushed out from this fiscal year. We remain positive on the company's prospects going forward."
Not a takeover bid
Sky Sports quoted Andy Green, who advises the Manchester United Supporters' Trust and writes a blog on soccer finance, who said"
"This is absolutely not the start of any takeover. You could buy all the shares available on the stock market and you would still only have 10 per cent of the club and about 1.3 per cent of the votes."
"I am sure they are looking at the investment opportunities and rumours of the new Nike deal. They have a reputation as a long-term investment company."
Written by [google_authorship]