The G7 economic forecast is encouraging, especially in the United Kingdom and United States, but is faltering in Japan, while the Eurozone lags behind, says the OECD (Organization for Economic Cooperation and Development).
Growth has been uneven due to a series of one-off factors, including unusually harsh winter weather conditions in North America and the expected April sales tax hike in Japan.
China and some other emerging economies continue growing at a fast pace, while others have lost steam. The growth slowdown in the emerging markets has been compounded by tighter financial conditions, the OECD adds.
Deputy Secretary-General and Acting Chief Economist of the OECD, Rintaro Tamaki, said during the Interim Economic Assessment in Paris, France:
"The gradual recovery in the advanced economies is encouraging, even if temporary factors have pushed down growth rates in the early months of this year, while the slowdown in emerging economies is likely to be a drag on global growth."
"With remaining fragilities in the euro area, Japan only just beginning to confront its daunting fiscal challenges and the possibility of a slowdown in China, it is critical that advanced and emerging economies alike recognise the growing importance of structural reforms to reinvigorate growth and boost job creation."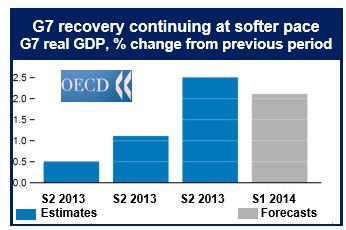 (Source: OECD)
Bad weather affected North America
After starting 2014 with slower-than-expected GDP (gross domestic product) growth due to severely bad weather, the OECD forecasts 3.1% annualized growth during the second quarter in the United States.
Abnormally adverse weather also undermined the Canadian economy, which is also expected to have similarly patchy growth during Q1 2014, followed by a spurt in the second quarter that should push the annual GDP growth rate to 2.4%.
Planned fiscal consolidation in Japan will affect near-term growth, OECD economists predict. In April, sales tax (VAT) will increase from 5% to 10%. Experts had expected a surge in domestic consumption before the tax hike which will push growth to an annualized rate of 4.8%, but this does not appear to be happening.
Much slower growth, and possibly even a contraction in the economy is predicted for Q2 2014 in Japan, after which normal growth will eventually resume.
UK and Germany encouraging, Eurozone more moderate
The OECD forecasts 3% annualized GDP growth for the United Kingdom in Q 1 &Q2 2014, while the Eurozone will grow at a much more moderate rate.
Economic growth in Europe is still uneven. Germany, France and Italy, the three largest Eurozone economies, are expected to grow at a combined weighted average of 1.9% in Q1 2014 and 1.4% in Q2.
Germany's GDP is predicted to grow by approximately 3.7% annualized in Q1 2014 and then by 2.5% in Q2, with France stuck at a disappointing 1%. Italy's growth will probably stay below 1% during the first six months of this year.