Toronto-based gold mining giant Barrick Gold Corporation says it aims to cut its debt by $3.5 billion to approximately $7 billion. In a conference call on Thursday, Co-President Kelvin Dushnisky said the company's current debt level is higher than they would like it to be.
The world's largest gold mining business said it would look to repay debt from improved cash flow and proceeds from any future asset sales.
In recent months the company has sold off several non-core mines as it slims down its portfolio and concentrates on five mines – Lagunas Norte in Peru, Veladero in Argentina, Pueblo Viejo in the Dominican Republic, and Goldstrike & Cortez in Nevada.
According to Ammar Al-Joundi, chief financial officer, Barrick is considering a wide range of options to cut its debt, including partnerships and the sale of assets.
Mr. Al-Joundi said:
"We know that is quite a distance, but we have a lot of opportunities to get there."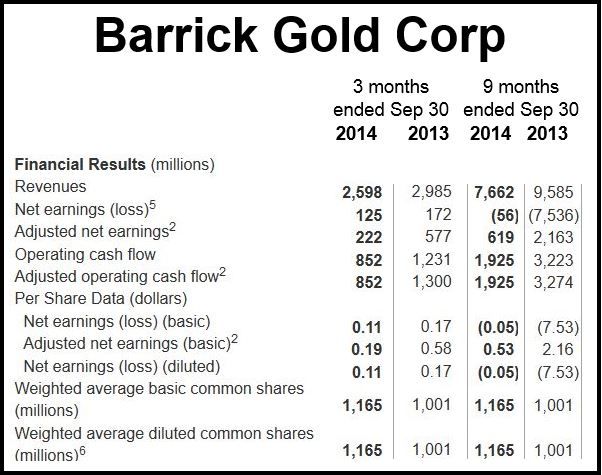 (Source: Barrick Gold Corp.)
Gold mines across the globe are struggling after 24 months of declining gold prices. Analysts say the only ones to survive well will be those that manage to cut costs and improve margins.
On October 29th, Barrick posted third quarter net earnings of $125 billion or $0.11 per share, compared to $172 million ($0.17 per share) in Q3 2013. Adjusted net earnings came in at $22 million or $0.19 per share, while operating cash flow was $852 million.
Revenue in the third quarter declined to $2.6 billion from nearly $3 billion in Q3 2013.
Mr. Dushnisky said:
"We are pleased to report another quarter of strong operating results, underpinned by a disciplined business model that prioritizes shareholder returns. We are focused on the best assets in the best regions, where we see the most potential to create value for shareholders, areas where we have already established distinctive geological and technical knowledge and strong partnerships."
Mr. Dushnisky emphasized that the company would only invest in mines and development opportunities that showed clear promise of generating strong returns and free cash flow.
Co-President, Jim Gowans, said:
"Operational excellence remains a top priority for Barrick. Our performance in the third quarter reflects the quality of our mines and our people. Our operating teams continue their relentless efforts to improve performance and cut costs. As a result, we were able to reduce annual cost guidance for the second time this year."
Barrick reduced its all-in sustaining cost guidance to $880-$920 per ounce, from $900-$940, and cut its production guidance to 6.1m-6.4m ounces of gold from previous expectations of 6m-6.5m ounces.
Gold and silver fell to their lowest level in four years on Friday as the US dollar soared against other major currencies, following an announcement by Japan's central bank of a massive stimulus program.
Spot gold declined by 3% to $1,161.25. US COMEXX gold futures fell by 2.25% to $1,171.6.