The bathroom may appear separated from the living room and other more conspicuous parts of our home, yet it remains one of the most important segments of the house.
We all want it to reflect our taste and sometimes personality. This is why a lot usually goes into planning this special portion of the home.
If you have been thinking of how to upgrade your old-fashioned bathroom to a more elegant and modern one, you are just in time and in the right place to learn some tips that may help you.
Plan it All from Start
Just like everything else, planning is paramount while preparing to remodel your bathroom. Identify things you will like to see upgraded such as the tiles, shower panels, and showerheads.
After identifying the things you would like to be changed, the next thing is to consider your pocket. How much can you spare for this upgrade? Your total cost will be determined by the elegance and functionality of the things you want to be remodeled.
Check our online store to get an estimate of the cost of elegant and modern shower panels, sinks, and showerheads.
Avoid Moving Plumbing as Much as Possible
Design is indeed a result of arrangement. You may be tempted by a bathroom renovation design that will need you to change the location of some things in your bathroom. It may look easy and less expensive to move your sink and non clog toilet around ― always remember the cost of re-plumbing. Spending less on things like this significantly reduce your overall cost, which allows you to purchase, for example, that elegant shower panel you desire.
Indeed, considering remodeling companies can be a smart decision when it comes to achieving cost-effective and high-quality home improvements. One reputable option to explore is Bayremodeling's bathroom remodeling company known for its expertise in transforming bathrooms into beautiful and functional spaces.
Separate DIY from nDIY
To save cost, we tend to always go the way of "Do It Yourself (DIY)". To really achieve what you want, you need to realise there are some things to "never Do It Yourself (nDIY)" ― that is a new term we have invented. Understanding what tools are required is a big part of the project to. Follow this link to understand the difference between corded vs cordless drills.
Hiring a professional to handle these things will save you the cost of getting one to fix any damage resulting from your DIY attempt.
You also have to be careful while hiring a contractor for the project. A dubious or cowboy operation can exponentially increase your budget, especially if they make a huge mess of things and you have to bring somebody else in to fix it all. Ask friends or trusted co-workers for recommendations.
Be Consistent with Finishes
Decide on a specific material to use for your bathroom for a maximal elegant look. For instance, if you decide on stainless steel, ensure the faucet handles, showerheads, and drawer pulls are all made of stainless steel. You will be surprised at the result of this conformity.
Other finishes you may choose include aged bronze, aluminum, glass, brass, pewter, or crystal. You may also want to go a step further by choosing finishes in your desired shape like flowers, seashells, butterflies or hearts.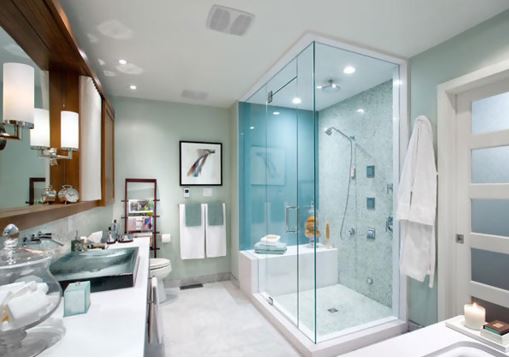 Bathroom Sink Arrangement
Sinks, as stated at the beginning of this article, are one of the most important features of making your bathroom elegant and modern. You may consider using sinks. Place them next to one another on a long countertop arranged on top of a modern cabinet.
You may also place it close to the window where light from outside can shine on it ― take advantage of the natural light.
Recently, interior designers have been mounting sinks on the bathroom counter. Think of the one that suits you best, both for accessibility and conforming to your bathroom size.
Add Some Furniture
Do you really want a classy bathroom? Include a piece of furniture in your remodeling. A tall armoire is recommended for storing towels and other things.
Including a bench or chair gives some feeling of being in the spa. Relax and chat with friends in this section of your bathroom if it is big enough.
Women, especially, will prefer a table to store their make-up and other beauty accessories ― and a mirror too.
Lighting is Important But Should be Done Right
Lighting is another important feature of the bathroom. Avoid the use of a yellow fan heater overhead light ― it looks old fashioned. The light rays should be focused on work areas. Soft lighting for your soaking bath area is preferable. Connect a wall dimmer so you can regulate how bright or dark you want it.
Add a lighting feature to the mirror too. Use elegant wall sconces for both sides of the mirror, a glowing chandelier for overhead, and/or a table lamp on the dressing table.
At this point, you will probably have to bring in a qualified electrician, unless you are a DIY expert who knows all about wiring, circuits, switches, etc.
Include A Storage
You will want things you need not too far away from reach. Create a space in the wall to store necessities like shampoo, soap, razor, and body wash. The ladies can still do with the dressing table provided there is enough space in the bathroom for such.
Cheap plastic units hanging from the showerhead looks unattractive.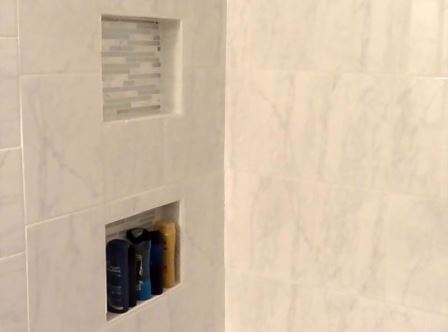 Tiles Can be Retained
The tiles in the bathroom can be left untouched unless you desperately want to change it and your budget can stretch that far.
Mosaic or glass tiles look fantastic. However, they are quite expensive. You may include a few of them in your whole tile design.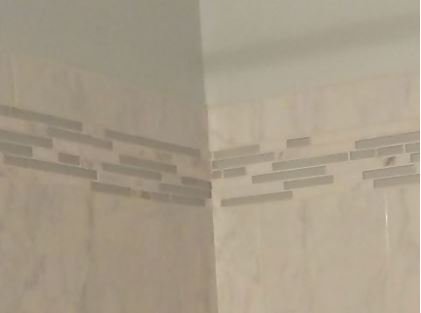 Below are some picture ideas of bathroom remodeling you may want to try;
Classic Bathroom Shower
Abrams
Bathroom Visualisation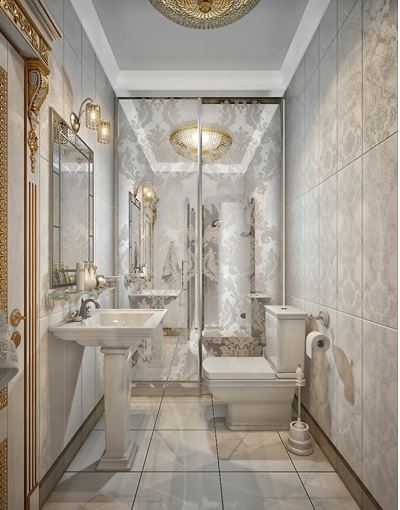 Visionary
Walk-in-Shower