Bees and other insect pollinators need a more friendly environment, and there is a great deal we can do to help, says DEFRA (Department for Environment, Food and Rural Affairs in the UK). In fact, if we don't help restore the populations of bees, moths, butterflies and other insect pollinators, our agricultural production will fall considerably and we will be facing an alarming food security problem.
Did you know that there are at least 1,500 species of insect pollinators just in the UK? According to DEFRA, there are.
Insect pollinators help plants – including our crops – reproduce by carrying pollen from one flower to another as they feed. Many species of insects do this, including honey bees, solitary bees, bumblebees, hoverflies, butterflies, moths, beetles, flies and wasps.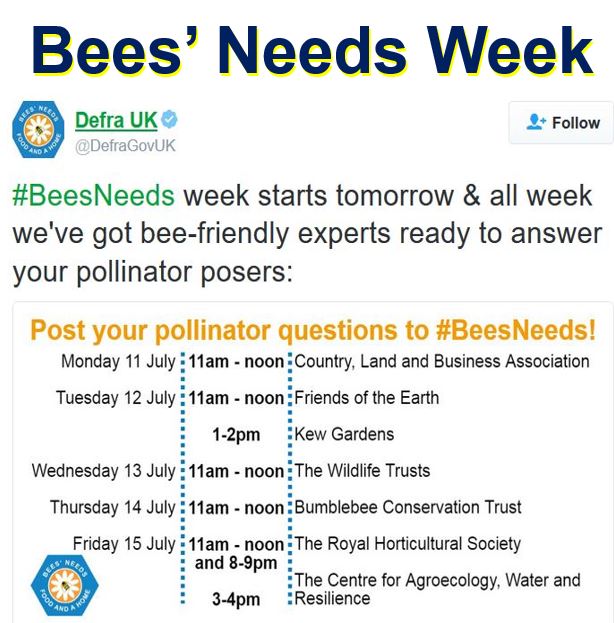 We need to get together and help bees and other insect pollinators. Their populations are declining, their survival status is deteriorating. Without our help they will continue disappearing. We need them for much of our agricultural food production. (Image: twitter.com/DefraGovUK)
Bees need shelter, pollen and nectar and we need bees
Every type of insect pollinator has a complex life cycle and specific needs. They all have two things in common, however: they all need a home for shelter and pollen and nectar for food.
We need insect pollinators for our gardens, wild plants, crops and parks.
---
---
DEFRA offers the following advice to local authorities, land owners, developers, farmers, gardeners and families:
– Plant more trees, shrubs and flowers
– Allow your garden to grow wild
– Do not cut the grass so short, and cut it less often
– Do not disturb insect hibernation spots
– Do not disturb insect nests
– Do you really have to use pesticides? Think carefully about whether to use them
#Plant #bee friendly #flowers to help #pollinators thrive https://t.co/ybea4Xi3jN #BeesNeeds pic.twitter.com/TfVJouG5V4

— Shoot (gardening) (@ShootGardening) 9 July 2016
By following the steps listed above, we can all help give insect pollinators, including Britain's bees, the food and shelter they require to survive.
How else can you get involved?
A recent YouGov poll found that twenty-four percent of English adults said that somebody in their household had planted pollinator-friendly plants in their gardens or window boxes to encourage pollination.
---
---
One fifth of the survey respondents said they had let parts of their garden grow wild so that bees could have more nectar and pollen.
Nature and insect lovers, as well as individuals who are concerned about our food security, can follow Bees' Needs Week – from 9th to 17 July, 2016 – on Twitter. Search for #BeesNeeds to learn more about the campaign. You can tweet your pollinator questions to bee experts, businesses and charities.
If you build a Bee Hotel, you could be providing homes for some of the 260 species of solitary bee that nest in crumbling buildings, holes in cliffs and hollow plant stems.
BBKA says most important thing about #beesneeds is that forage is available from January to October #bees pic.twitter.com/ENJxqERsBa

— BBKA (@britishbee) 9 July 2016
Several individuals and organisations across the country have become partners for Bees' Needs week, and are holding events such as the first Chester Bee Summit at Chester Zoo, the Wildlife Trusts' Butterfly Walk at Trench Wood in Worcestershire, and the Bumblebee Conservation Trust's Bumblebee Safari in Somerset – during the whole week there are hundreds of pollinator-friendly events taking place across the country.
Some facts regarding insect pollinators
– There are 1,500+ species of insects that pollinate plants in Britain.
– In the UK, 260 species of solitary bee, 25 species of bumblebee, hundreds of types of hoverflies, butterflies and moths, as well as one honey bee species exist in the UK.
@CBeebiesHQ @IOE_London @4kidsactivities – amazing video on how kids can build their very own bee hotel https://t.co/Jy1dZo0QCh #BeesNeeds

— Mike Head (@mikehead84) 6 May 2016
– Of the 100 crop species that exist globally and provide 90% of our food, 70 are pollinated by bees.
– Insect pollinators represent an economic benefit of about £600 million, i.e. that is their estimated value to crops due to increases in yield and quality of fruit and seeds.
– With five simple actions, Britons can protect our vital pollinators: 1. Grow more flowers, trees and shrubs. 2. Think carefully before deciding whether to use pesticides. 3. Do not disturb insect nests and hibernation spots. 4. Cut grass less frequently. 5. Leave areas of land to grow wild.
The Bees' Needs Week logo. (Image: DEFRA Twitter)
Bees become addicted to pesticides
Bees gradually become addicted to nectar laced with pesticides, specifically neonicotinoid pesticides, which affect their brains much the same way nicotine impacts the human brain, say researchers from the University of Oxford, Trinity College Dublin, and Newcastle University.
When a bee settles on a flower that has been treated with a neonicotinoid pesticide, it stays there much longer and consumes considerably more nectar, compared to other flowers free of neonicotinoid pesticides.
If bees consume more, their pesticide body levels will be higher, which can be bad for their health. The researchers wonder whether neonicotinoid pesticides could be contributing to the alarming decline in bee populations.
We love this animated illustration, explaining #pollination. Enjoy! https://t.co/3TcuJpMdDO #BeesNeeds

— Bee Good (@BeeGood_UK) 1 August 2015